PERAWATAN SALURAN AKAR GIGI MOLAR ATAS DENGAN CROWN LENGTHENING DAN RESTORASI ONLEI CERAMOPOLIMER
Asri Riany Putri

Bagian Konservasi Gigi, Fakultas Kedokteran Gigi, Universitas Mahasaraswati, Denpasar
Keywords:
root canal treatment, crown lengthening, onlay ceramopolimer
Abstract
Teeth post root canal treatment (RCT) would be very brittle because it has lost moisture and most of the hard tissue, so they need a restoration. Ceramopolymer is one of the choosen material for posterior onlay restoration recently. A tooth with subgingival caries often pose problems. Non adequat restoration can cause secondary caries and a failed restoration. The aim of this case report is to demonstrate a succeed treatment of crown lengthening with ceramopolymer onlay as post RCT restoration on maxilla secondary molar with irreversible pulpitis. A 30-year-old female patient was referred for RCT on the maxillary right second molar with irreversible pulpitis. RCT, crown lengthening and indirect onlay had been performed. Teeth that have taken RCT needs an restoration and ceramopolymer is a material that can be chosen. Ceramopolymer is an indirect restoration filled with 73% micro-fine ceramic. It combines the advantages of composite and ceramics so it provides a highly strong but elastic restoration for posterior teeth. Surgical crown lengthening can be done to gain access to subgingival area and cleaning the caries site and also to give an adequat tooth preparation. Crown lengthening with ceramopolymer onlay as post RCT restoration on maxilla secondary molar showed a successful treatment outcome.
Downloads
Download data is not yet available.
References
Ruddle CJ. Nonsurgical endodontic retreatment. CDA Journal 2004: 1-14.
Inan CW, Hadriyanto W. Retreatment endodontik dan restorasi ulang menggunakan pasak fiber reinforced composite. Maj Ked Gi 2010;6: 35-40.
Shofu Dental corporation. Ceramage: micro ceramic composit system for anterior and posterior regions. 2013. Available from: https://www.shofu.com/shofu_images/DFU/ceramage-instructions.pdf. Accessed December 11, 2019.
Gupta G, Gupta R, Gupta N, Gupta U. Crown lengthening procedures – a review article. IOSR-JDMS 2015; 14 (4): 27-37.
Murali KV, Shahabe SA, Patil SG, Ahmed BMN, Bhandi S. Esthetic crown lengthening: theorical concepts and clinical procedures. IJCD 2012;3(3):33-7.
Thumati P, Reddy KR. A minimally invasive cosmetic dentistry protocol – a case report. J Int Dent Med Res 2013; 6 (1): 31-35.
Xiu-Qi D. Comparison of application of composite resin and polymer ceramic onlay in repair of endodontically treated teeth. 2013. Available from : https://www.researchgate.net. Accessed December 11, 2019.
Mi, Y. Effect evaluation of different inlay restorations. Life Sci J 2013; 10(3): 814-818.
Planciunas L, Puriene A, Mackeviciene G. Surgical lengthening of the clinical tooth crown. Stomatologija, Baltic Dental and Maxillofacial Journal 2006; 8(3):88-94.
Tolmie P, Rasenberger K, van Kesteren C. Restorative crown lengthening surgery. Available from: https://www.trvperio.com. Accessed December 11, 2019.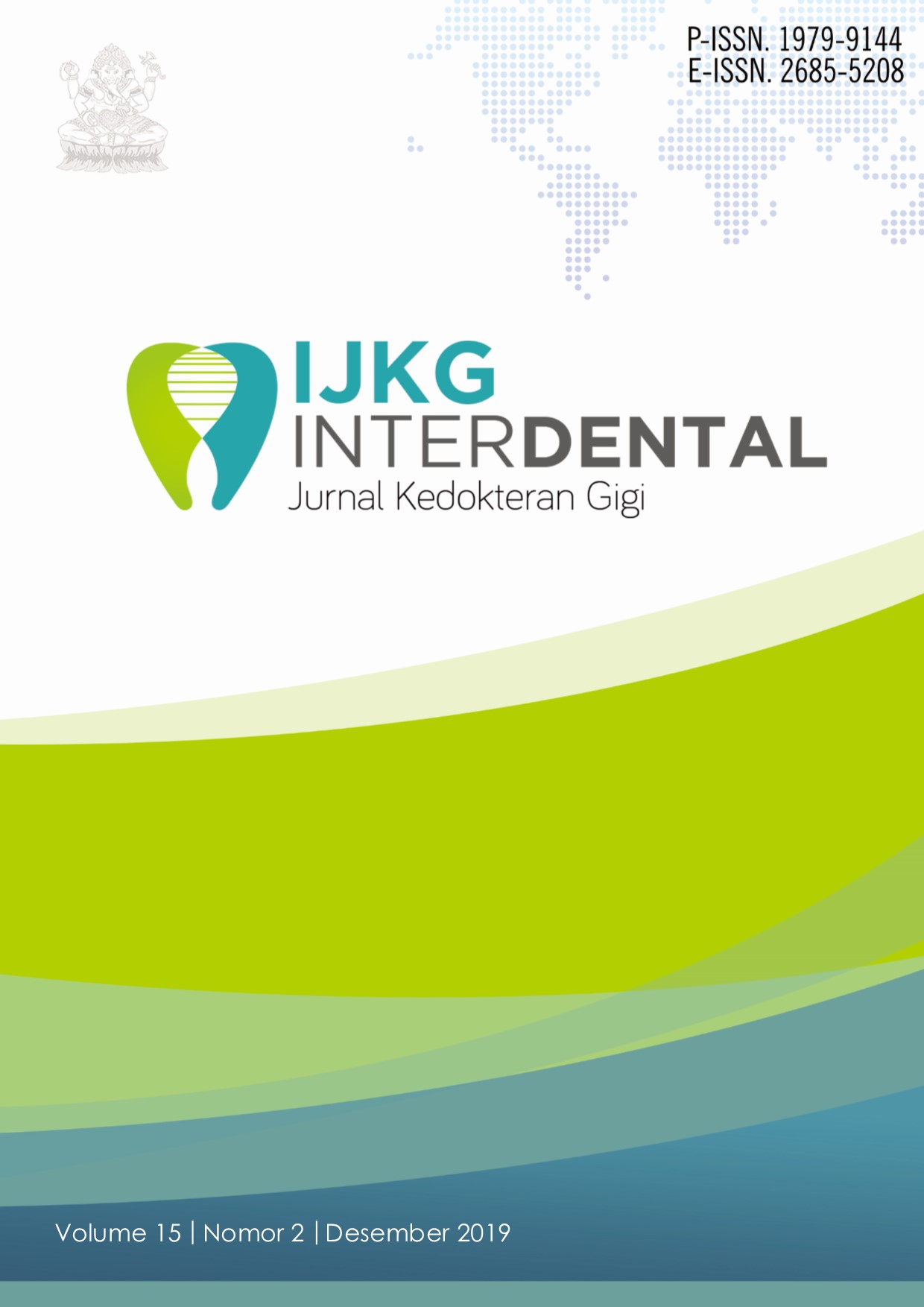 How to Cite
Putri, A. R. (2019). PERAWATAN SALURAN AKAR GIGI MOLAR ATAS DENGAN CROWN LENGTHENING DAN RESTORASI ONLEI CERAMOPOLIMER. Interdental: Jurnal Kedokteran Gigi, 15(2), 74-78. https://doi.org/10.36733/interdental.v15i2.596