PENGARUH CINNAMALDEHYDE DARI KAYU MANIS (Cinnamomum burmanii) PADA PERIODONTAL DRESSING TERHADAP SEL FIBROBLAS PADA LUKA GINGIVA KELINCI
Made Lesya Vavata

Program Studi Sarjana Kedokteran Gigi dan Profesi Dokter Gigi, Fakultas Kedokteran, Universitas Udayana, Denpasar

Ni Luh Putu Benita Lisda V.E.

Program Studi Sarjana Kedokteran Gigi dan Profesi Dokter Gigi, Fakultas Kedokteran, Universitas Udayana, Denpasar

Syahrul Ramadhana

Program Studi Sarjana Kedokteran Gigi dan Profesi Dokter Gigi, Fakultas Kedokteran, Universitas Udayana, Denpasar

Desak Nyoman Ari Susanti

Program Studi Sarjana Kedokteran Gigi dan Profesi Dokter Gigi, Fakultas Kedokteran, Universitas Udayana, Denpasar
Keywords:
Gingival wound, cinnamaldehyde, fibroblast, periodontal dressing
Abstract
Gingiva is the outermost structure of the periodontal tissue and play a role to protect the underlying tissue. Traumatic actions such as simple incisions, gingival flaps, and biopsy are the main causes of damage or injury to periodontal tissue. Application of a material to protect post-operative wounds is necessary. A common procedure related to this problem is periodontal dressing which serves to close the wound and accelerate the healing of gingival tissue. One type of plant that has a good ability to wound healing is cinnamon (Cinnamomum burmannii) with a compound called cinnamaldehyde. The use of this compound as a mixture in periodontal dressing has the potential to accelerate wound healing in the gingiva. This study aims to determine the effect of the addition of cinnamaldehyde from Cinnamomum burmannii on periodontal dressing on fibroblasts in healing gingival wounds in rabbits. The design of this study was an experimental laboratory study design with a post-test only with control group design. Experimental animals in the study were divided into 4 groups based on the presentation of the addition of cinnamon extract, namely 0%, 5%, 10%, and 15%. Each sample was again divided into small groups based on the day of decaputation consisting of days 3, 5, and 7. Statistical test results showed there were significant differences in the number of fibroblast cells between 3 subgroups (ANOVA, p <0.05). Addition of cinnamon extract to periodontal dressing could increase the
number of fibroblast cells after gingival injury.

Downloads
Download data is not yet available.
References
Newman MG, Takei HH, Carranza FA. Carranza's Clinical Periodontology, Volume 1. Carranza's Clinical Periodontology. 2002.
American Academy of Periodontology. Glossary of Periodontal Term. J Periodontol. 2001;
Li J, Chen J, Kirsner R. Pathophysiology of acute wound healing. Clin Dermatol. 2007;
Reinke JM, Sorg H. Wound repair and regeneration. Eur Surg Res. 2012;49(1):35–43.
Clark R. wound repair: Overview and general considirations. In: The Molecular and Cellular Biology of Wound Repair. 2013.
Velnar T, Bailey T, Smrkolj V. The wound healing process: An overview of the cellular and molecular mechanisms. Journal of International Medical Research. 2009.
P. B. Wound healing and the role of fibroblasts. J Wound Care [Internet]. 2013;22(8):407–12. Available from: http://www.magonlinelibrary.com/doi/10.12968/jowc.2013.22.8.407
Habiboallah G, Mahdi Z, Majid Z, Nasroallah S, Taghavi AM, Forouzanfar A, et al. Enhancement of Gingival Wound Healing by Local Application of Silver Nanoparticles Periodontal Dressing Following Surgery: A Histological Assessment in Animal Model. Mod Res Inflamm. 2014;
Polimeni G, Xiropaidis A V., Wikesjö UME. Biology and principles of periodontal wound healing/regeneration. Periodontology 2000. 2006.
Kale DT, Dani DN, Patange DT. Periodontal Dressing. IOSR J Dent Med Sci. 2014;13(3):94–8.
Farahpour MR, Amniattalab A, Hajizadeh H. Evaluation of the wound healing activity of Cinnamomum zeylanicum extract on experimentally induced wounds in rats. 2012;11(84):15068–71.
Yuan X, Han L, Fu P, Zeng H, Lv C, Chang W, et al. Cinnamaldehyde accelerates wound healing by promoting angiogenesis via up-regulation of PI3K and MAPK signaling pathways. Lab Investig. 2018;98(6):783–93.
Takasao N, Tsuji-Naito K, Ishikura S, Tamura A, Akagawa M. Cinnamon extract promotes type i collagen biosynthesis via activation of IGF-I signaling in human dermal fibroblasts. J Agric Food Chem. 2012;
Gallin JI, Goldstein IM, Snyderman. R. Inflammation: Basic Principles and Clinical Corre- lates. 1st ed. New YOrk: Raven Press; 1988.
Eming SA, Martin P, Tomic-Canic M. Wound repair and regeneration: Mechanisms, signaling, and translation. Science Translational Medicine. 2014.
Zhang Y-B, Liu X-Y, Jiang P-P, Li W-D, Wang Y-F. Mechanism and antibacterial activity of cinnamaldehyde against Escherichia coli and Staphylococcus aureus. Mod Food Sci Technol. 2015;31:31–5 and 11.
Eurell JA, Brian L. Frappier DVM. Dellmann's Textbook of Veterinary Histology. Wiley; 2013.
Singh S, Young A, McNaught CE. The physiology of wound healing. Surgery (United Kingdom). 2017.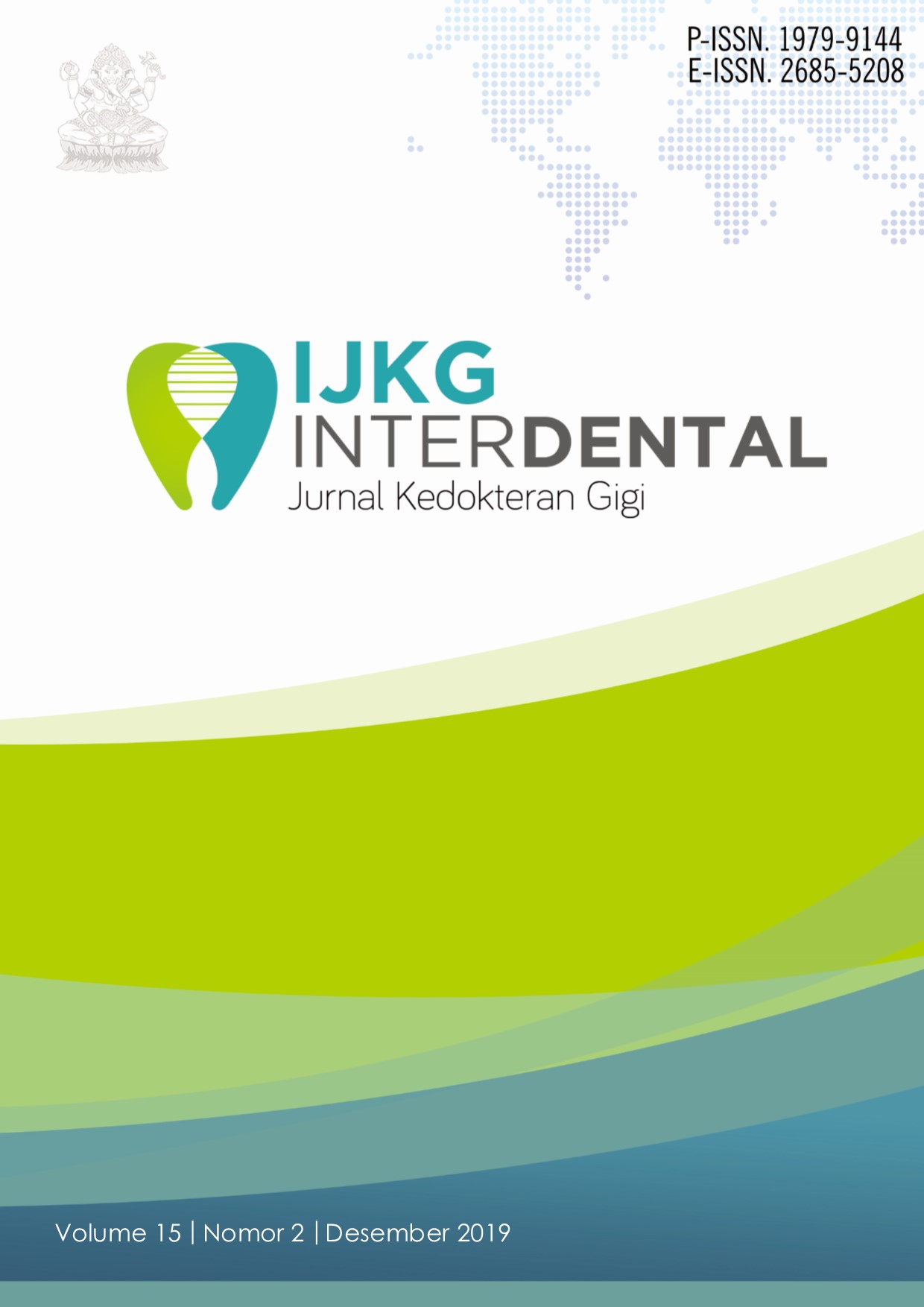 How to Cite
Vavata, M. L., Lisda V.E., N. L. P. B., Ramadhana, S., & Susanti, D. N. A. (2019). PENGARUH CINNAMALDEHYDE DARI KAYU MANIS (Cinnamomum burmanii) PADA PERIODONTAL DRESSING TERHADAP SEL FIBROBLAS PADA LUKA GINGIVA KELINCI. Interdental: Jurnal Kedokteran Gigi, 15(2), 1-5. Retrieved from http://e-journal.unmas.ac.id/index.php/interdental/article/view/590