PENGEMBANGAN PANDUAN WISATA EDUKASI BURUNG DI SUBAK PULAGAN MELALUI PENDEKATAN 4D
Ketut Darmayanti

Program Studi Pendidikan Biologi, Fakultas Keguruan dan Ilmu Pendidikan Universitas Mahasaraswati Denpasar

Sang Putu Kaler Surata

Program Studi Pendidikan Biologi, Fakultas Keguruan dan Ilmu Pendidikan Universitas Mahasaraswati Denpasar

Ni Wayan Ekayanti

Program Studi Pendidikan Biologi, Fakultas Keguruan dan Ilmu Pendidikan Universitas Mahasaraswati Denpasar
Keywords:
Educational Tourism, Guide, 4D Approach, Gender, Learning
Abstract
The diversity of flora and fauna makes Subak Pulagan has the potential to be developed into an educational tourism area, which is a tour that provides an enjoyable experience of studying the diversity of birds in natural habitats. But so far there is no guidebook on outdoor learning, especially in Subak Pulagan. So a guideline product was designed with the aim of developing a guidebook and testing a bird observation manual. The research subjects consisted of validators, students, heads of staff, teachers and students. This research was conducted on 10 April-30 July 2018, in Subak Pulagan, Gianyar. This handbook was developed with the 4D stages of defining: conducting interviews with the tutor teacher and the head of Pekaseh, the design of the initial product design. Develop is validated by a team of validators and students by using an open questionnaire and the diseminate stage analyzes student assessments of products using a closed questionnaire. Furthermore, the data obtained were analyzed using the Mann Whitney U Test. The development of 4D produced a Guidebook product with a description of an activity called "Bird Watching Education Tour in Subak Pulagan". As for the results of the 4D stage, namely: Define obtained the results of not available guide book for bird observation in Subak Pulagan. Design obtained a simple product design with the topic "green birdwaching education tour guide book and twitter". Develop, the results of the validation of each validator give a good rating. Deseminate gets positive results and male and female students have the same assessment of the product.
Downloads
Download data is not yet available.
References
Astari (2017). Gaya Belajar Gender. (PDF Dokument). Diunduh pada tangga 12 juni 2017 dari http://digilib.unila.ac.id/26504/3/SKRIPSI%20TANPA%20BAB%20PEMBAHASAN.pdf
Astuti, K.A.P. (2017). Pengembangan Panduan Wisata Edukasi SAINS Melalui Pendekatan 4 D Untuk Mempromosikan Aspek Salingtemas Laskap Budaya DAS Tukad Pakrisan Bali. (Skripsi Tidak Dipublikasikan). FKIP Universitas Mahasaraswati Denpasar
Bea, H.S., Herawati, S.,Susriyati, M.(2016). Pengaruh Gender Terhapap Keterampilan Metakognitif dan Pemahaman Konsep Peserta Didik IPA dan Biologi di Malang. Jurnal pros, Semnas Pend. Pascasarjana UM. 21(2).978-9826
MacKinnon. J. (1991). Panduan Lapangan Pengenalan Burung- burung di Jawa dan Bali. Yogyakarta (ID): Gadjah Mada Univ ersity Press
Nurmaliah, C. (2010). Analsis Keterampilan Metakognitif Siswa SMP Negeri di Kota Malang Berdasarkan Kemampuan Awal, Tingkat Kelas, dan Jenis Kelamin. Jurnal Syiah Kuala University Darusalam Banda Aceh
Surata, S.P.K (2013 a). Pembelajaran Lintas Budaya Subak: Penggunakan Subak Sebagai Model Ecopedagogi. Jurnal Kajian Bali. 3(2).181-194
Thiagarajan.S., Dorothy.S., Semmel. Melvyn.I. (1974). Instructional Development for Training Teachersof Exceptional Children. A Source Book Bloomington : Center for Innovation on Teaching the Handicap.
UNESCO. (2012). Subak Pulagan Tampak Siring. [PDF dokument]. Diunduh pada tanggal 13 februari 2018 Dari http://whc.unesco.org/uploads/nominations/1194rev.pdf
Widyatama. (2017). Kajian Pustaka Wisata Edukasi. [PDF dokument]. Diunduh pada tanggal 20 Oktober 2017 Dari http://repository.widyatama.ac.id/xmlui/bitstream/handle/123456789/3824/Bab%202.pdf?sequence=4
Yuniarti (2017). Penialain Jender Terhadap Mahasiswa. [PDF Dokument] diunduh 12 juni 2017 dari http://repositori.uinalauddin.ac.id/8150/1/YUNIARTI.pdf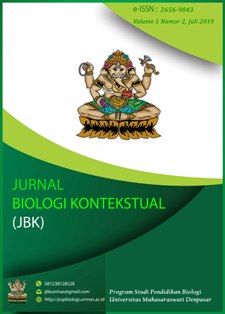 How to Cite
Darmayanti, K., Surata, S. P. K., & Ekayanti, N. W. (2019). PENGEMBANGAN PANDUAN WISATA EDUKASI BURUNG DI SUBAK PULAGAN MELALUI PENDEKATAN 4D. Jurnal Biologi Konstektual (JBK), 1(2), 111-122. Retrieved from http://e-journal.unmas.ac.id/index.php/JBK/article/view/624