MENYIKAPI KEBERTAHANAN BAHASA INDONESIA DALAM MENGHADAPI GLOBALISASI DI BALI
Keywords:
Indonesian, existence
Abstract
Indonesian is the official language of Indonesia in which the existence should be preserved by its own users because it is a part of living culture. Indonesian is a symbol of social and cultural value which bond to its society. It is one of the cultural treasures which can be developed to set the standard of national language. Seeing the rapid development in Bali to a more modern community, the people tend to be multilingual. Therefore there is a challenge for the existence of Indonesian in Bali especially in this global era. Ways to cope with this challenge is for the users to have positive attitude that is to be proud using Indonesian in speaking, to be loyal in using Indonesian and to be responsible in using the language appropriate with the context of the usage.
Downloads
Download data is not yet available.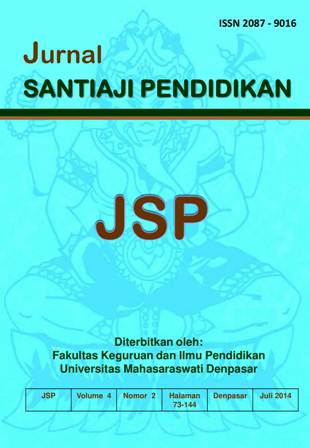 Downloads