IMPLEMENTASI PENERAPAN MODEL PEMBELAJARAN QUANTUM UNTUK MENINGKATKAN PRESTASI BELAJAR IPA
Keywords:
Quantum Learning Model, Science Learning, Learning Achievement
Abstract
The low learning achievement of science in students of Class IXC in Gianyar State Middle 1 in the second semester of 2016/2017 Academic Year has not been achieved according to KKM. So that researchers applying the Quantum model improve student learning achievement. This class action research involved 37 students of Class IXC in Gianyar State Middle 1 2016/2017 as the subject of research conducted in two cycles through the stages of planning, implementation, observation / reflection and reflection. The learning achievement test is a tool used in collecting research data which is then analyzed using descriptive analysis. The results obtained from this study show an increase in students' ability to follow the learning process from the initial average of 78.10 increasing to 81.27 in the first cycle and increasing to 88.70 in the second cycle with initial learning completeness of 18.92% in cycle I increased to 35.14% and in the second cycle increased to 97.30%. The conclusions that can be drawn from these results are the implementation of the Quantum model can improve science learning achievement in Class IXC students in the second semester in Gianyar Public Middle School 2016/2017 Academic Year.
Downloads
Download data is not yet available.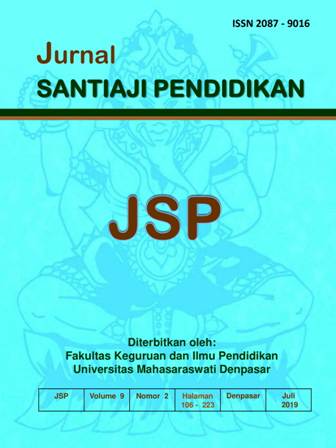 Downloads