PENERAPAN MODEL PEMBELAJARAN PROBLEM SOLVING UNTUK MENINGKATKAN PRESTASI BELAJAR FISIKA SISWA KELAS XII IPA 6 SEMESTER 1 SMA NEGERI 2 DENPASAR TAHUN PELAJARAN 2017 / 2018
Keywords:
Learning Model Problem Solving, Student Learning Achievement
Abstract
This classroom action research was conducted on students of class XII-6 in the first semester in academic year 2017/2018 with low ability in learning "Sound Waves and Light Waves". The purpose of this study is to find out how high the improvement in student learning achievement in physics subjects after the problem solving learning model is applied using the correct theories in the implementation of learning physics. The data collection method is a physics learning achievement test. The data analysis method is descriptive both for qualitative data and for quantitative data. The results of this study indicated that the application of the problem solving learning model can improve student learning achievement. This is evident from the learning achievements obtained by students at first reached an average value of 62.61, in the first cycle reached an average value of 81.56 and in the second cycle achieved an average value of 83.65. From the results of these studies it can be concluded that the application of the problem solving learning model using the correct could improve student learning achievement in Physics subjects
Downloads
Download data is not yet available.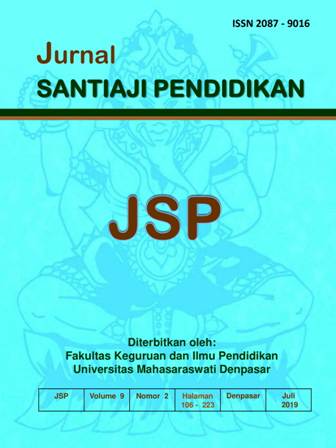 Downloads