MENINGKATKAN PRESTASI BELAJAR MATEMATIKA SISWA KELAS XI IPA 7 SEMESTER 3 YANG DIUPAYAKAN DENGAN PENERAPAN MODEL PEMBELAJARAN CONTEXTUAL TEACHING AND LEARNING (CTL) SMA NEGERI 1 DENPASARTAHUN PELAJARAN 2016/2017
Keywords:
Model Learning Contextual Teaching and Learning (CTL), academic achievement
Abstract
This classroom action research conducted in Class XI Science 7 3rd semester of academic year 2016/2017, which amounted to 34 people, consisting of 11 men and 23 women. This study aims to improve student learning outcomes. Learning mathematics with the lecture method the results are far from KKM (80), and then tested by the method of discussion with friends bench results have not yet been achieved overall. The purposes of this researsh were to analyze how learning model Contextual Teaching and Learning (CTL) can improve students' learning achievement. Research data was collected by means of the provision of learning achievement test. In analyzing the data obtained is used descriptive analysis model. The data generated from this study consists of the data: the beginning, the first cycle and cycle II. From the preliminary data obtained an average value of 78.38 and reached 61.76% mastery learning. This data is far below expectations considering learning success indicators in the first cycle is 80 to 80% mastery learning. While indicators of success on the second cycle also according KKM is 80, with 85% or completeness learn more. In the first cycle there is an average increase class achieve mastery learning 79.18 and reached 73.53%. In the second cycle class average acquisition has reached 84.0 and the percentage of mastery learning has reached 97.06%. Data on the second cycle has been no increase in line with expectations due to the nature of the use of constructivist learning model. The conclusion from this research is learning model Contextual Teaching and Learning (CTL) can improve learning achievement.
Downloads
Download data is not yet available.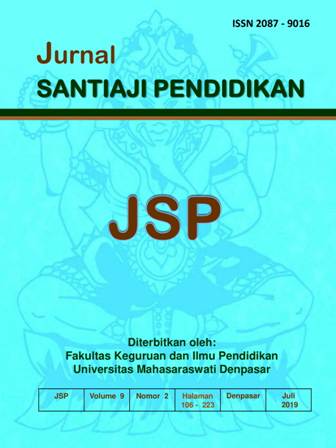 Downloads