PENERAPAN MODEL PEMBELAJARAN KOOPERATIF TIPE JIGSAW UNTUK MENINGKATKAN HASIL BELAJAR FISIKA SISWA
Keywords:
Jigsaw Cooperative Learning, Learning Outcomes
Abstract
The purpose of this study is to improve student learning outcomes in Physics, through the implementation of Jigsaw cooperative learning model.This research is a classroom action research with 2 cycles. This research was conducted at SMAN 1 Denpasar in grade XII MIA-10 which consists of 32 students who were divided into 8 groups, and implementation from July to December 2017. Physics student learning outcomes obtained using the test given before the cycle, cycle I and cycle II. The results showed Physics student learning outcomes before the cycle averaged 62.5 with 21.88% mastery. Then after a given treatment, at the end of the first cycle the average scores of learning outcomes increased to 72.5 and 43.75% mastery. Then proceed to the second cycle of treatment. The mean score of Physics student learning outcomes increased to 80.94 with 93.75% mastery class. It shows that the Jigsaw cooperative learning model creates a positive effect for improving learning outcomes physics, especially the creation of a learning climate that invites all students actively involved and responsible for their learning outcomes. This is demonstrated by the involvement of students in searching for information, discussion, build personal relationships and raise the confidence of the students when presenting the results of their discussion.
Downloads
Download data is not yet available.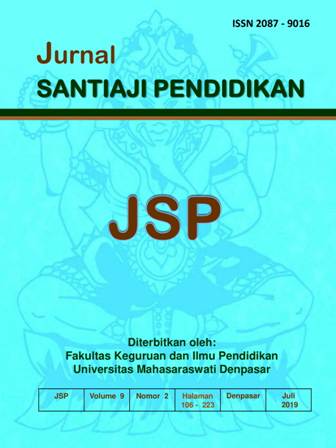 Downloads