UPAYA MENINGKATKAN PRESTASI BELAJAR FISIKA DENGAN PENERAPAN MODEL PEMBELAJARAN PROBLEM SOLVING SISWA KELAS XI-MIA SEMESTER 2 SMA NEGERI 1 DENPASAR
Keywords:
Problem Solving, Learning Model Physics Achievment
Abstract
Student achievement is shown by the results of the initial observations indicate that learning is done not run maXI-MIAmum. Therefore to improve student achievement required learning model with the model and the right strategy. One is the learning model of Problem Solving This study aims to improve student achievement. The location of this research at SMA Negeri 1 Denpasar with the number of students 46 people. The data in this study were obtained from the learning achievement test which is then carried deskriptif. The research analysis was conducted in two cycles. Each cycle is done based on the following steps: ( 1 ) develop a plan of activities, ( 2 ) carry out actions , ( 3 ) observation, and ( 4 ) refleksi. The result of research shows that according to the preliminary observations of student learning outcomes are less active, easily bored, and the students' attention on teacher's explanation is so small that the average value of 72.97 students only. After the first cycle measures mastery learning materials increased to an average of 78,24 with 27 students and the students completed the unfinished 10 students . The results of the action in the second cycle after the material mastery learning achievement test given rise to an average of 84.19 with 35 students completed and unfinished 2 students. Percentage of mastery learning in the second cycle is in compliance with defined indicators of success and the cycle is declared not followed, with the conclusion that the use of problem solving learning model has been able to either to be used as an alternative in improving student achievement.
Downloads
Download data is not yet available.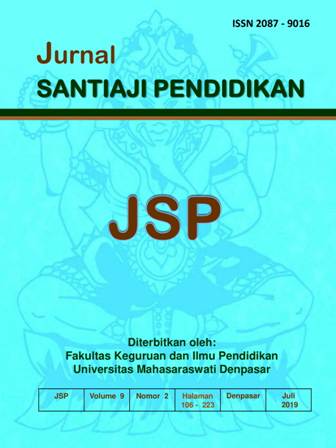 Downloads