UPAYA MENINGKATKAN KOMPETENSI PEDAGOGIK GURU KELAS IV SD NEGERI 9 DAUH PURI MELALUI PENERAPANSUPERVISI AKADEMIK TAHUN PELAJARAN 2016/2017
Keywords:
Pedagogic Competence and Academic Supervision
Abstract
This study aims to improve the Pedagogical Competence of Class IV Teachers of SD Negeri 9 Dauh Puri and the ability of teachers to prepare RPP in the Learning Process by applying Academic Supervision. This type of research is school action research and involves 1 teacher at the Dauh Puri 9 Elementary School in the academic year 2016/2017.The data of this study include pedagogic competency data collected using worksheets for assessment instruments for the implementation of learning and the ability to develop learning implementation plans using planning instruments for learning activities. Furthermore, the data collected in this study was analyzed using descriptive statistics. The results showed that there was an increase in Pedagogic Competence and Ability to Arrange RPP. This is evident from the results obtained in the 1.70% cycle for preparing lesson plans and 73.33% for pedagogical competencies. From cycle I to cycle II it increased 100% for the preparation of RPP and 100% for pedagogic competencies. The conclusion obtained from this study is that academic supervision can improve the pedagogical competence of the teacher and develop a plan for implementing learning.
Downloads
Download data is not yet available.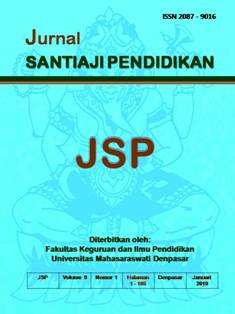 Downloads