AUTHENTIC ASSESSMENT IMPLEMENTATION IN ENGLISH LEARNING TOWARDS THE ELEVENTH GRADE STUDENTS OF SMA NEGERI 1 TABANAN
Keywords:
authentic assessment, implementation, competency
Abstract
The achievement of education through learning process is not able tobe separated with learning assessment. In accordance with this, Kemendikbud issues Permendikbud No. 23 Year 2016 governing the standard of assessment, one of which is the utilization of authentic assessment. This research purposed to describe authentic assessment implementation in English learning to the eleventh grade students at SMA Negeri 1 Tabanan. The subjects of this research were an English teacher and 67 students. The techniques utilized to collect the data were observation, interview, and documentation. The data obtained were analysed by using qualitative data analysis. The result of this research showed that: (1) Authentic assessment was implemented in lesson plan and (2) The authentic assessment was implemented meaningfully and integrated in learning process. The assessment's techniques used to assess each competency consist of:(a)observation for attitude competency, (b) most of the assignment for knowledge competency, and (c) performance, project, and portfolio for skills competency.The conclusion of this research is the authentic assessment in English teachingboth in the lesson plan and the learning process is well implemented. It is indicated by the positive opinion stated by the teacher and students towards the implementation of authentic assessment in the process of learning.
Downloads
Download data is not yet available.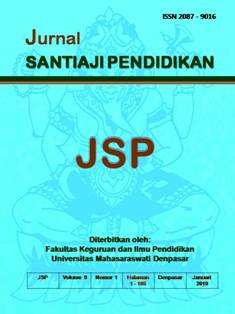 Downloads