PENERAPAN PEMBERIAN TUGAS INDIVIDU DALAM KERJA KELOMPOK UNTUK MENINGKATKAN PRESTASI BELAJAR PKN SISWA KELAS V SEMESTER I SD NEGERI 12 PEGUYANGAN TAHUN PELAJARAN 2013/2014
Keywords:
Individual Assignment Work Group, Learning Achievement
Abstract
The purpose of this class action research writing is to find out whether giving individual tasks in group work can improve the learning achievement of 12 Peguyangan elementary school students in Class V in the first semester of the 2013/2014 academic year. Data in this study were collected with learning achievement tests. The data analysis method is descriptive. The results obtained from this research complete description can be described as follows: the results obtained initially 51.42 with a percentage of completeness 40.47%, in the first cycle to 69.76 with a percentage of completeness 64.28% and in the second cycle to 82 , 14 with a percentage of 100% completeness. These results after analyzing using descriptive analysis concluded that giving individual assignments in group work can improve PKN learning achievement of fifth grade students of the first semester of Peguyangan 12 State Elementary School 2013/2014 Academic Year.
Downloads
Download data is not yet available.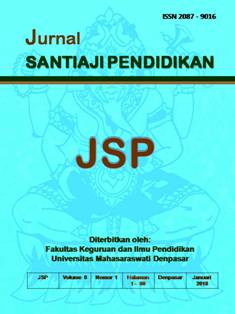 Downloads