PENERAPAN PEMBELAJARAN KOOPERATIF TIPE NUMBER HEAD TOGETHER UNTUK MENINGKATKAN PRESTASI BELAJAR PKN
Keywords:
Cooperative Learning Model Type Head Together Number,Learning Achievement
Abstract
Classroom action research conducted in SD No. 2 Blahkiuh in class IV Semester II SD No. 2 Blahkiuh Academic Year 2015/2016 aims to determine the improvement of learning achievement in PKN subjects by applying the Cooperative learning model Type Number Head Together. The data of this study were collected by giving the achievement test. In analyzing the data obtained used descriptive analysis method. The data generated from this research consist of preliminary data, cycle data I and Cycle II data. From the preliminary data, the average new class reached 69.28 and the learning completeness only reached 25.64%. This data is far below expectations considering that the PKN PKM in this school is 76. In the first cycle there has been an increase, namely the average class reaches 74.74 and the percentage of learning completeness reaches 53.85%. In the second cycle the acquisition of the average class had reached 82.79 and the percentage of mastery learning had reached 97.44%. The data in Cycle II is in line with expectations due to the use of constructivist learning models. The conclusions obtained are the Cooperative Type Number Head Together learning model can improve students' PKN learning achievement.
Downloads
Download data is not yet available.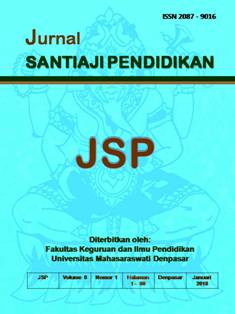 Downloads