MODEL PEMBELAJARAN CONTEXTUAL TEACHING AND LEARNING (CTL) UNTUK MENINGKATKAN PRESTASI BELAJAR
Keywords:
Contextual Teaching And Learning (CTL) Learning Model, Learning Achievement
Abstract
Most of the students in Grade V Semester II SD No. 2 Mambal 2015/2016 Academic Year has not yet reached the level of learning completeness set at this school, which is 73. From the shortcomings in the field, researchers seek a scientific study by conducting classroom action research. The purpose of this study is to improve student achievement class V Second Semester SD No. 2 Mambal Year 2015/2016 Lesson with the use of Contextual Learning Teaching And Learning (CTL) model in the implementation of teaching and learning process. Research conducted in two cycles using planning, implementation, observation and reflection on each cycle focuses its data collection using learning achievement test and conducting analysis with descriptive analysis. After the reflection, an increase in student achievement from the average value of 68.15 to 71.60 average class in cycle I and on the second cycle increased to 78.45. The data shows the successful implementation of the research according to the indicator that is proclaimed. Finally, the researcher concluded that the optimal use of the Contextual Teaching And Learning (CTL) Learning model in the implementation of the learning process could improve the social studies learning achievement of the fifth grade students of SD Semester II. 2 Mambal Lesson Year 2015/2016.
Downloads
Download data is not yet available.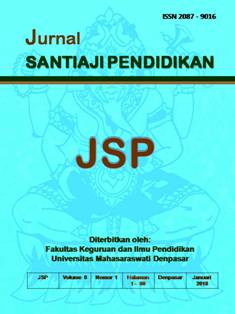 Downloads