PENERAPANINKUIRI TERBIMBING SEBAGAI UPAYA MENINGKATKAN AKTIVITAS DAN PRESTASI BELAJAR MAHASISWA POKOK BAHASAN ANALISIS VEKTOR DI STMIK STIKOM INDONESIA
Keywords:
qualitative research, guided inquiry, student activity, student achievement
Abstract
This study aims to determine the increase in activity and achievement of students of class H, mathematics course 1 in STMIK STIKOM Indonesia through the implementation of inquiry learning guided learning vector analysis. This research uses a qualitative approach, this kind of research is Classroom Action Research by model Kurt Lewin. The subjects of this study are the students of class H Mathematical subject 1 in STMIK STIKOM Indonesia as many as 29 students. Based on these results, it can be concluded that the application of guided inquiry learning can improve the activity and learning achievement of vector analysis. This is indicated by the increase in the percentage of student learning activities from the first cycle to the second cycle of 25.56% and the percentage increase in the average value of students, mastery learning, absorption from pre-cycle to the first cycle respectively 9.18% 13.33%, and 9.18%, and the percentage increase of the average value of students, learning mastery, and absorption from cycle I to cycle II were 12.69%, 41.19% and 12.69% .
Downloads
Download data is not yet available.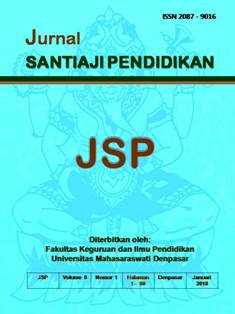 Downloads