PENERAPAN PEMBELAJARAN BRAINSTORMING DENGAN PENDEKATAN SUPERVISI KLINIS DALAM MENINGKATKAN KETERAMPILAN DASAR MENGAJAR PADA MATA KULIAH MICRO TEACHING KELAS C SEMESTER VI PGPAUD UNDIKSHA
Keywords:
Brainstorming, Micro teaching, Teaching skills.
Abstract
This study purpose to improve teaching skills through the application of brainstorming learning with a clinical supervision approach in the micro teaching class C Semester VI PGPAUD Undiksha. The subjects in this study are sixth semester students PGPAUD UPP Denpasar, amounting to 18 students. Data were collected by non-test techniques using observation sheets, and analyzed by quantitative descriptive statistical techniques. Results obtained from pre cycle stage with the percentage of basic teaching skill of 80.56%, an increase in the first cycle to 85.94% and in the second cycle there was an increase to 86.5%. The percentage is already in very high category. From the results of the percentage can be concluded that with the application of brainstorming learning with clinical supervision approach can improve the basic skills of teaching in micro teaching courses Class C Semester VI PGPAUD Undiksha  
Downloads
Download data is not yet available.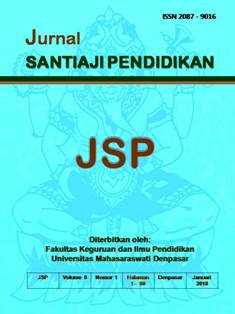 Downloads