PENERAPAN BIOLOGI TERAPAN OLEH SISWA SMP DI KABUPATEN TABANAN
Keywords:
Implementation, Applied Biology, Student, Junior High School, Tabanan
Abstract
This study aims to determine the application of applied biology in everyday life by junior high school students in Tabanan District of Bali Province. The method used in this research is survey research method. Respondents who are the subject of this research are grade VIII students from 3 sample schools in Tabanan District. The three sample schools are Public Junior High School 2 Tabanan, Public Junior High School 1 Kerambitan, and Public Junior High School 2 Penebel. Data collection was done by distributing questionnaires to respondents. The questionnaire consists of 25 question items. The collected data is analyzed descriptively by presentation in the form of a complete description with visual data in the form of tables and graphs. Each question item is given a range of 0 to 5. The minimum score is 0, whereas the maximum score is 5. The total score of each student will be converted to a scale of 100. Next is determined the mean-value for each sample school. The mean grade of each sample school was then compared and classified. Categorization of the average value refers to the classification of absolute norms scale 5. Based on the results of research can be concluded that the application of applied biology by junior high school students in Tabanan District is still quite enough. This condition requires all of us who are work in the education sector to find solutions through further studies to a better level. Thus, the expectations of what students have learned in the field of biology are useful to them and their environment.
Downloads
Download data is not yet available.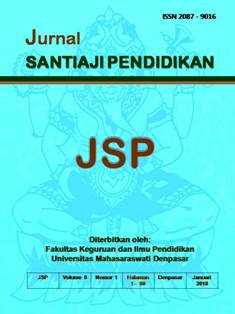 Downloads