ANALISIS TINDAK TUTUR DALAM NOVEL MERANTAU KE DELI KARYA PROF. DR. HAMKA
Keywords:
Locutionary Speech Acts, Illocutionary, Perlocutionary, Novels Merantau Ke Deli
Abstract
This research is a qualitative descriptive study that discusses the study of pragmatics seen from the aspect of speech acts. The purpose of this study was to determine the speech acts of locutions, illocutions and perlocutions, in the novel Merantau Ke Deli by Prof. Dr. Hamka. Data collection methods in this study are reading, taking notes and literature study. The data analysis method used in this study is to reduce data, present data and verify and conclude data. The results of the speech act research in the novel Merantau Ke Deli by Prof. Dr. Hamka has fifty utterances including twenty-eight locutionary speech acts, namely eight statement locutions, fourteen question locutions, six command locutions. The illocutionary speech acts found there are ten utterances including one representative illocutionary, one commissive illocutionary, four directive illocutions, two expressive illocutions , two declarative illocutions. The perlocutionary speech act in the novel Merantau Ke Deli by Prof. Dr. Hamka has twelve perlocutionary utterances. The causal factors used are locutionary, illocutionary, and perlocutionary speech including showing promise or ability, flattery or praise, conveying intentions and prohibitions.
References
Abdurrahman (2006). Pragmatik: Konsep Dasar Memahami Konteks Tuturan "Lingua Jurnal Ilmu Bahasa dan Sastra". Volume 1, nomor 2, Malang Universitas Islam Negeri.
Anggit Putri Sarwanti. 2013. "Analisis Tindak Tutur dalam Novel MS. B: Will U Merry Me? Karya Fira Basuki (Suatu Kajian Pragmatik)". Skripsi. Yogyakarta: FBS UNY.
Austin, J.L. 1962. How to Do Things with Words. London: Oxford University Press. Education.
Bungin, Brhan. 2007. Penelitian kualitatif. Jakarta: Prenada Media Group.
Chaer, Abdul dan Leonie Agustina., (2010). Sosiolinguistik Perkenalan Awal. Jakarta: PT. Rineka Cipta.
Chaer, Abdul. (2014). Linguistik Umum. Jakarta: PT. Rineka Cipta.
Dwi Nureny Wijayanti, (2014). "Tindak Tutur dalam Novel Bekisar Mera Karya Ahmad Tohari". Skripsi. Yogyakarta: FBS UNY.
Ita Purnama Sari, 2018. Analisis Bentuk Tindak Tutur pada Novel Rembulan Tenggelam di Wajahmu karya Tere Liye. Universitas Muhammadiyah Makassar.
Leech, Geoffrey, (1983). Prinsip-prinsip Pragmatik. Jakarta: Penerbit Universitas Indonesia (UI-Press).
Mariana Helga Septiana, 2019. Analisis Tindak Tutur Lokusi, Ilokusi, Perlokusi Pada Dialog 5 CM Karya Rizal Mantovani (Sebuah Tinjauan Pragmatik). Universitas Mahasaraswati Denpasar.
Nurmalasari Gamgulu, 2015. Analisis Bentuk Tindak Tutur Dalam Novel Ayat-Ayat Cinta Karya Habiburrahman El Shirazy (Suatu Tinjauan Pragmatik). Universitas Sam Ratulangi: Manado
Nurgiyantoro, Burhan, (2017). Teori Pengkajian Fiksi. Yogyakarta: Gadjah Mada University Press.
Putrayasa, Ida Bagus, (2014). Pragmatik. Yogyakarta: Graham Ilmu
Rohmadi, Muhammad. (2004). Pragmatik: Teori dan Analisis. Yogyakarta: Lingkar Media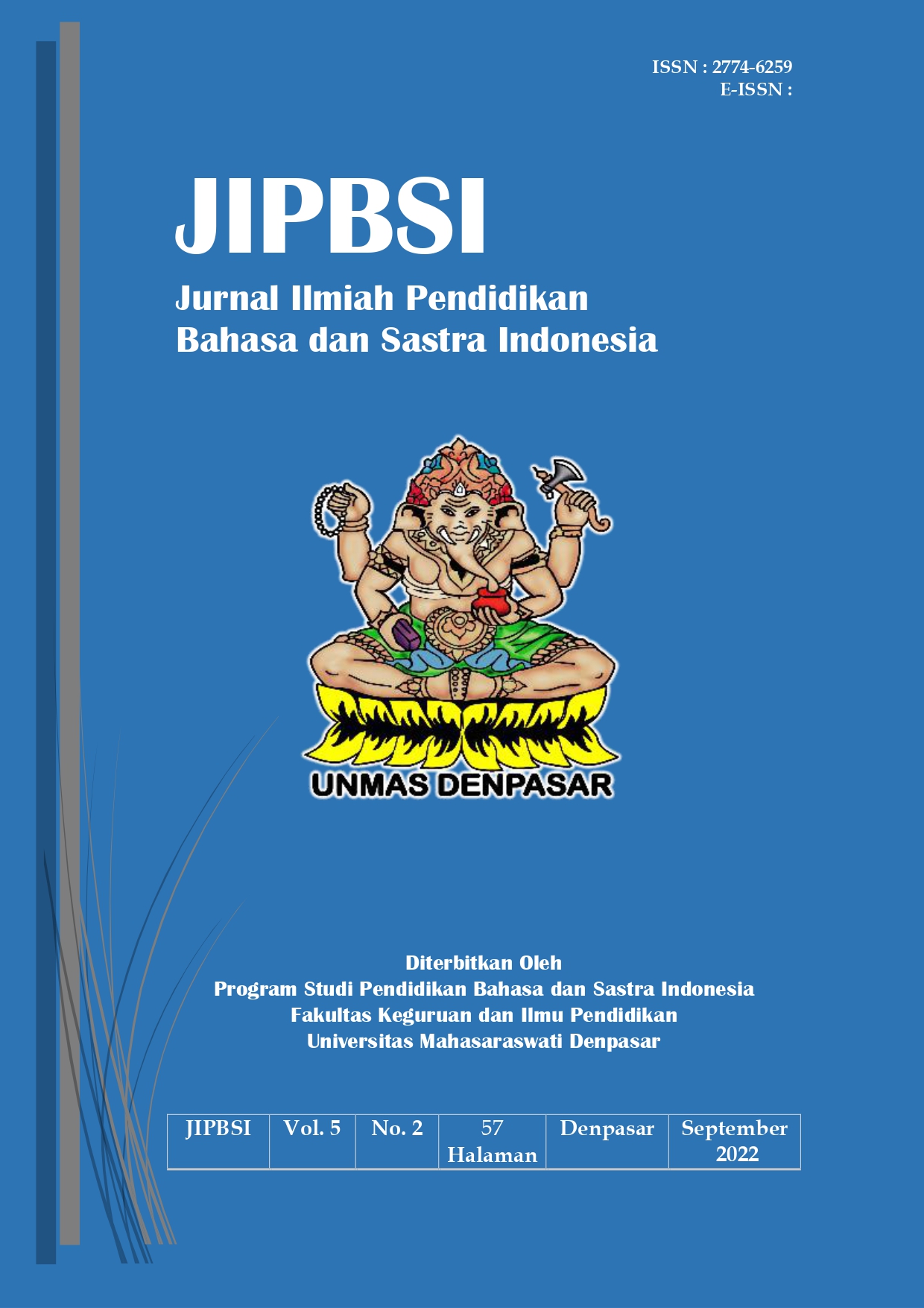 License