ANALISIS GAYA BAHASA DAN MANFAAT DALAM PENDIDIKAN PADA NOVEL WINTER IN TOKYO KARYA ILLANA TAN
Keywords:
Language Style, Novel , Benefits in Education
Abstract
Literature is the result of human creative thinking in the form of ideas, thoughts, understandings from the creators which encompass about existences by using imaginative, furthermore literature can also be used as an entertainment for their connoisseur. In this study, the research problem is how is the use of language style and what are the benefits in education which contained in the novel "Winter In Tokyo" by Iilana Tan. The problems of language styles involves : ) comparative language style, (2) satire language style, (3) contradictory language style, (4) affirmation language style, and (5) repetition language style. While the benefits in education which include the benefits of students in the implementation of learning at school are able to improve communication, create conducive learning, can improve speaking, reading, and writing skills. In this study, there are some theories that used as a theoretical basis, such as : a) The existence of literature, (b) definition of novels, (c) style of language, (d) types of language styles, (e) definition of education, (f) benefits of education. In this study, the researcher collected the data using qualitative research method. The steps of collecting the data are reducing data, presenting data, verifying data or concluding data. The result of the study from novel Winter in Tokyo" by Illana Tan, there are 107 language styles found in the novel "Winter In Tokyo" by Illana Tan. Comparative language styles are 16 hyperbole, 1 pleonasm, and 49 synecdoche. Repetitive language style, namely, 9 anaphoric language styles. The satire language style is, 1 melosis style, and 5 cynicism style. Contradictory language styles, namely, 7 paradoxical language styles, 11 antithesis language styles, 1 occupational language style. The affirmative language style is, 1 epiphora. Based on the data found, the most style of language that used in novel "Winter In Tokyo" by Illana Tan is the synecdoche style of language as much as 49 or 45.7% of language styles. From the researcher's result in this study, it found that the benefits of education in the novel "Winter In Tokyo" by Illana Tan were able to improve students' reading, speaking, and writing skills. In addition, it can improve communication both between students and students, or between students and teachers during the learning activity so that it can create conducive learning situation.
References
Elen, Hilariani Sofita. 2019. Analisis Feminisme Sastra pada Novel "Perempuan Di Titik Nol" karya Nawal El-Saadawi. Skripsi. Universitas Mahasaraswati Denpasar.
Handayani, Dewa Ayu Sri. 2018 Analisis Nilai-Nilai Moral dalam Novel "Kasta" karya Witri Prasetyo Aji. Skripsi. Universitas Mahasaraswati Denpasar.
Illana-Tan, 2008. Winter In Tokyo. Novel. Jakarta. PT Gramedia Pustaka Utama.
Sari, Dewa Ayu Putri Ratna Komala. 2018. Kemampuan menganalisis Unsur Fiksi dalam Novel "Merpati Kembar di Lombok" Karya Nuriadi. Skripsi. Universitas Mataram.
Wellek, Renne dan Austin Warren. 1990. Teori Kesusastraan (Diterjemahkan oleh Melani Budianta). Jakarta. Pustaka Jaya.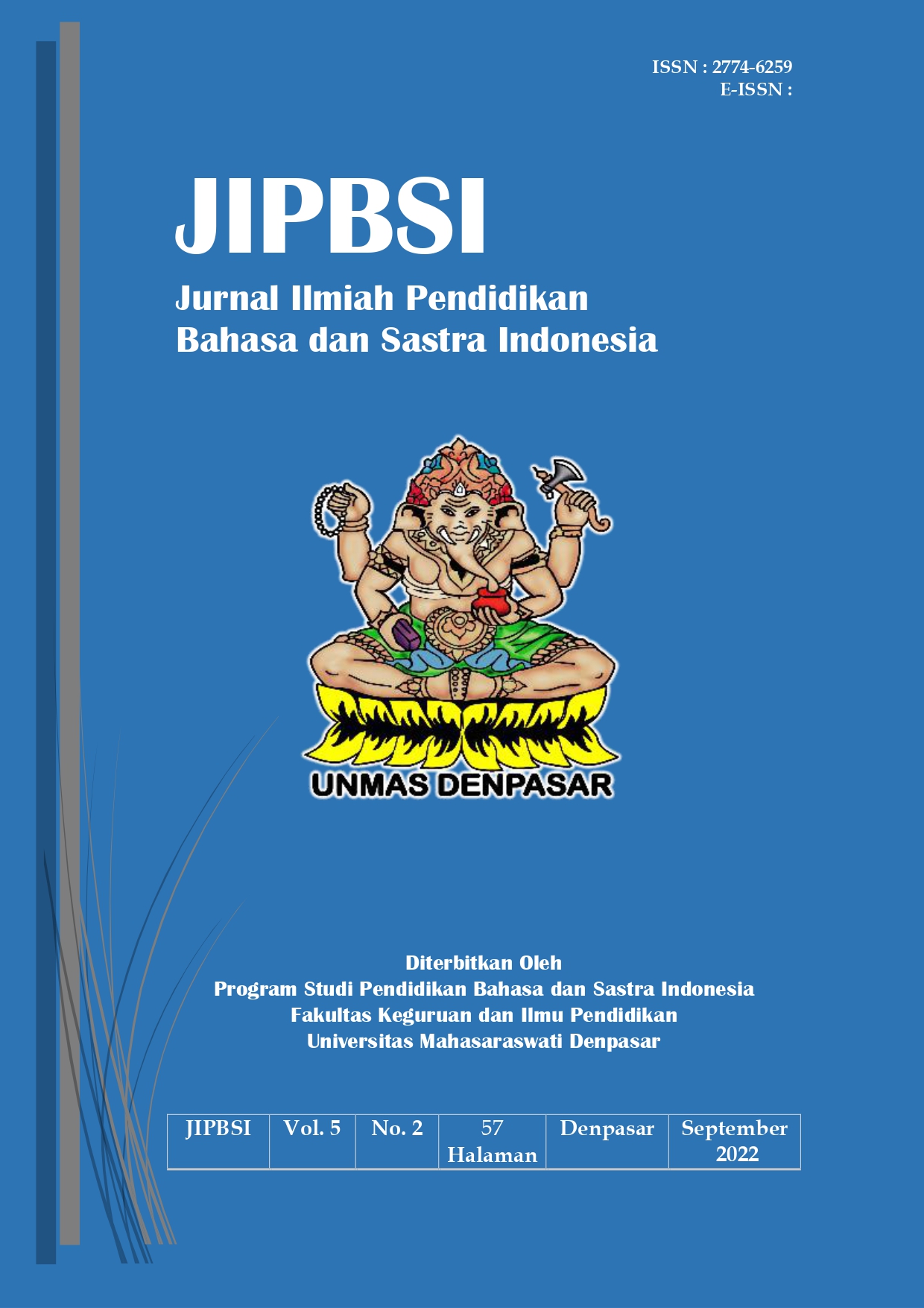 Downloads
License