DESAIN PEMBELAJARAN BAHASA INDONESIA UNTUK PENUTUR ASING (BIPA) TINGKAT INTERMEDIATE MID BERBASIS PENDEKATAN KOMUNIKATIF
Keywords:
instructional design, BIPA middle level, communicative approach
Abstract
This study aims to describe (1) BIPA Learning Scenarios for Intermediate Mid Level Learners through a Communicative Approach, (2) Intermediate Mid Level BIPA Learning Materials based on a Communicative Approach, and (3) Evaluation of BIPA Learning on Intermediate Mid Level Speaking Ability. This study used descriptive qualitative method. The results showed that a communicative approach was used to achieve learning goals with good, effective, and fun language mastery. Learning activities that are based on a communicative approach that includes related activities related to criticism, praise, and suggestions; complete sentences of criticism, praise, and suggestions; the practice of verbally conveying criticism, praise, and suggestions. Exercises to support the language skills of learners at the intermediate mid level, include exercises to complete gap dialogues, role playing (dialogues) involving the speaker and the interlocutor, and making statements of agreement and disagreement from a real event, and other linguistic support exercises. Aspects of oral communication, including (1) facial expressions, (2) gestures, (3) choice of words, (4) structure of words and sentences, (5) speech, and (6) intonation/stressing of voice in expressions Certain expressions become aspects that play in the practice of communicating.
References
Effendy, A. F. (2012). Metodologi Pengajaran Bahasa Arab. Malang: Misykat.
KBBI, 2022. Kamus Besar Bahasa Indonesia (KBBI). [Online] Available at: https://kbbi.web.id/nilai [Diakses 26 Juli 2022].
Lestari, N.D. Pembelajaran Autentik dalam Menulis Teks Deskripsi. Jurnal Efektor, 5 (2), 74-85, doi: https://doi.org/10.29407/e.v5i2.1207 9
Muchlisch. (1991). Materi Pokok Pendidikan Bahasa Indonesia 3. Jakarta: Depdikbud Proyek Penataan Guru Setara DII.
Nuraeni. (2002). Pembelajaran Bahasa Indonesia SD dan Apresiasi Bahasa dan Sastra Indonesia. Yogyakarta: BPG.
Rianto, M. (2006). Pendekatan, Strategi, dan Metode Pembelajaran. Departemen Pendidikan Nasional. Malang.
Sabarudin. 2018. Materi Pembelajaran dalam Kurikulum 2013. Jurnal An-Nur, 04(01), 1-18.
Sagala, S. (2005). Konsep dan Makna Pembelajaran untuk Membantu Memecahkan Problematika Belajar dan Mengajar. Bandung: Alfabeta.
Seels, B.B. & Richey, R.C. (1994). Instructional Technology: The Definition and Domains of The Field. (Terjemahan Yusuf Hadi Miarso, Dewi S Prawiradilaga & Raphael Rahardjo. IPTPI, Unit Percetakan UNJ).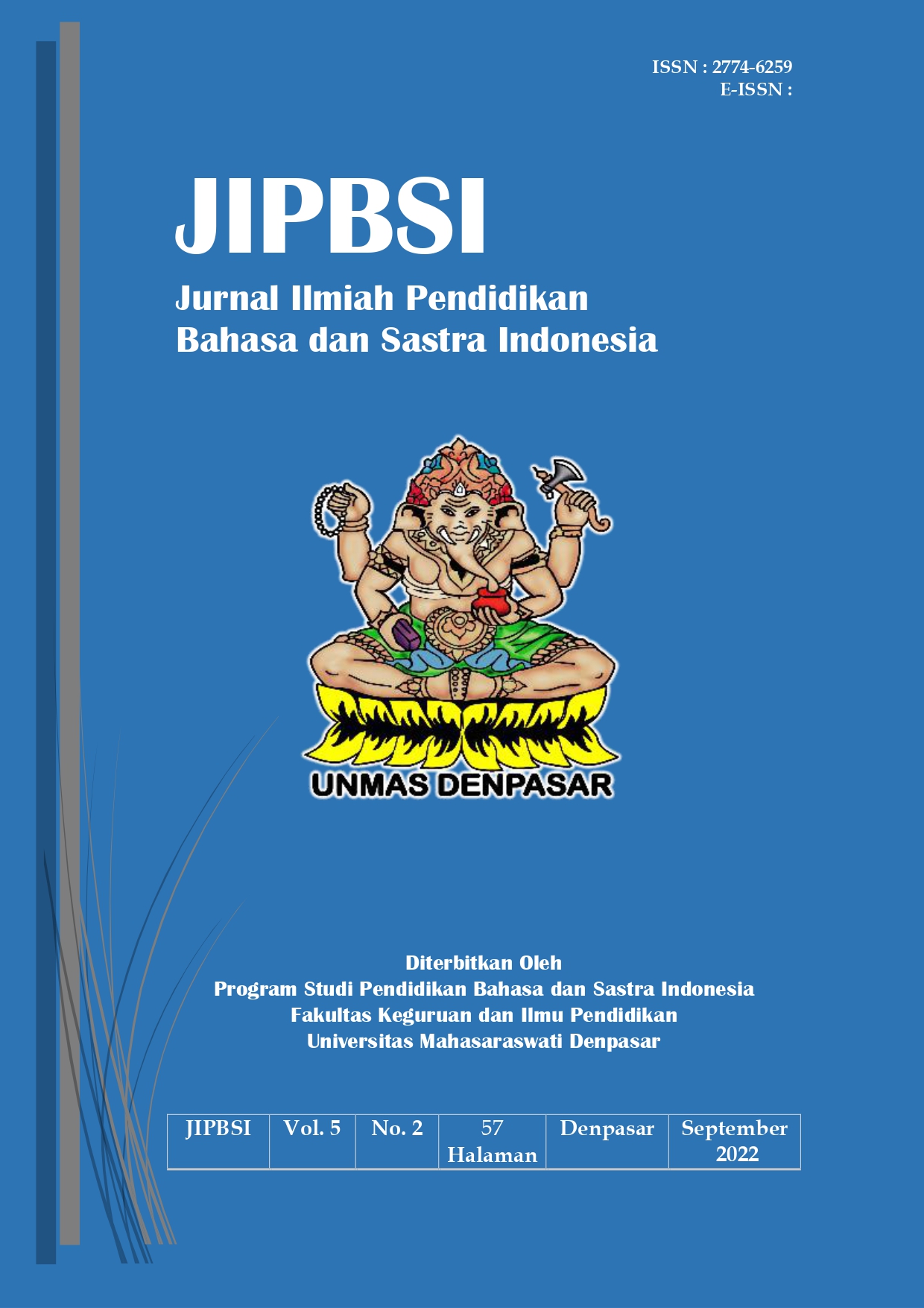 Downloads
License