ANALISIS NILAI MORAL DALAM NOVEL CUKO KARYA ARIESTANABIRAH DAN IMPLIKASINYA TERHADAP PENDIDIKAN KARAKTER
Keywords:
Novel, Moral, Character Education
Abstract
This research is a qualitative descriptive study that aims to describe and analyze moral values and implications for character education in the novel "Cuko" by Atiestanabirah.. The data collection methods carried out are: (a) Literature study: (2) Data observation (3) decamentation The steps in analyzing data are as follows: (a) data gathering, (b) playing data, analyzing and recording (c) verifying data ( d) conclude the data describe the data. Perozuan results of data analysis using informal methods. Based on the results of the analysis of moral malai in Anetanabirah's novel "Cuko" found the forms of moral malai in the form of (1) religious values (2) humility values, (3) hard values (4) starting to be independent (5) caring, (6) the value of the sacrifice (7) the value of the faucet. (8) polite value. (9) the value of responsibility. The implication of moral values in Arisstanabirah's novel "Cuko" on character education is that moral values in the form of morality towards God are related to religious values and morals towards others, namely the value of humility, the value of hard work, and independence. the value of caring, the value of sacrifice, the value of grace, the value of manners responsibility value.
References
Aqib, Zainal.2011. Pendidikan Karakter Membangun Perilaku Positif Anak Bangsa. Bandung: CV.YRAMA WIDYA.
Ariestanabirah. (2018) .Novel Cuko.Jakarta.Kompas Gramedia.
Budiningsih, Asri. 2008. Pembelajaran Moral (Berpijak Pada Karakteristik Siswa Dan Budaya
Darmadi, Hamid. 2009. Dasar Konsep Pendidikan Moral. Bandung: Alfabeta.
Meleong, L,J. 2000. Metode Penelitian Kualitatif. Bandung: PT Remaja Kosdakarya.
Nurgiyantoro, Burhan. 2007. Teori Pengkajian Fiksi. Yogyakarta: Gadjah Mada
Sakti, R. Nawang. (2013). Nilai Pendidikan Karakter Novel Bumi Cinta Karya Habibburahman El Shirazi Dan Relevansinya Terhadap Materi Pembelajaran Sastra Di SMA. Skripsi. Universitas Negeri Yogyakarta.
Septiade, R T. (2020).Tokoh Dan Nilai Moral Dalam Novel Rembulan Tenggelam Di Wajahmu Karya Tere Liye. Skripsi. Universitas Sanata Dharma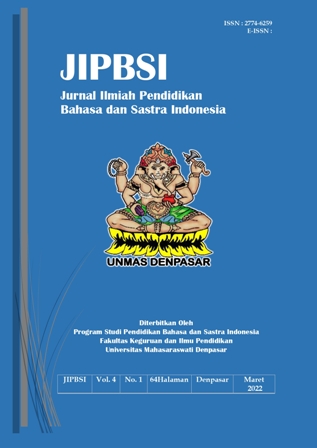 Downloads
License