ANALISIS NILAI SOSIAL BUDAYA DALAM NOVEL PARADIGMA KARYA SYAHID MUHAMMAD (TINJAUAN PSIKOLOGI SASTRA)
Keywords:
Novels, socio-cultural values, the form of the author's resentation
Abstract
This research is a qualitative descriptive study which aims to determine the form of socio-cultural values and the form of conveying socio-cultural values by the author in Syahid Muhammad's novel Paradigma. The theories that underlie this research are (1) the nature of literary works, (2) the nature of novels as literary works, (3) the understanding of literary psychology, (4) literature in a psychological perspective, (5) social values in literature, (6) understanding of social values, (7) understanding of cultural values, and (8) understanding of socio-culture in society. The data was collected by means of documentation and literature methods. The data in this study were processed using qualitative analysis techniques, namely, the analysis was carried out interactively and continued to completion. The steps in data analysis are (1) reading, analyzing and understanding, (2) understanding text, (3) recording data in the form of words, sentences, expressions and statements, (4) grouping data, (5) describing data, (6) analyze the data, and (7) conclude the results of data analysis. The results of this study indicate the findings of socio-cultural values. The socio-cultural values found were (1) emotional, (2) trust, (3) organizational, (4) apologizing, (5) prejudice, (6) wisdom, (7) stereotypes, (8) life lessons, (9) social rules / patterns of thinking, and (10) manners. The form of socio-cultural values in this novel tends to be prejudiced and stereotyped. The campus residents' prejudice against Rana's character who has a soft attitude and is friends with women makes Rana suspected of deviating. Then there is a stereotype that mental illness is evidence of the distance between humans and God which is shown by one of the character. The novel Paradigma by Syahid Muhammad can also be found in the form of conveying socio-cultural values by the author, namely direct and indirect delivery.
References
Arikunto, Suharsimi. 1998. Prosedur Penelitian Suatu pendekatan Praktek. Jakarta: Rineka Cipta.
Darmanto, Jatman. 1985. Sastra, Psikologi, dan Masyarakat. Bandung: Penerbit Alumni.
Djarwanto. 1994. Pokok-pokok Metode Riset dan Bimbingan Teknis Penulisan Skripsi. Yogyakarta : Liberty.
Faruk. 2012. Metode Penelitian Sastra: Sebuah Penjelajahan Awal. Yogyakarta: Pustaka Pelajar.
Kinanti, Djojosuroto. 2006. Analisis Teks Sastra dan Pengajarannya. Yogyakarta: Pustaka.
Koentjaraningrat. 2003. Pengantar Antropologi. Jakarta: Rineka Cipta.
Marningsih, Widiya. 2011. Nilai Sosial Budaya Dalam Novel Entrok Karya Okky Madasari (Tinjauan Sosiologi Sastra). http://eprints.ums.ac.id/14101/ diakses pada 27 Juli 2020.
Moeliono, M Anton. 1993. Tata bahasa Baku Bahasa Indonesia. Jakarta: Balai Pustaka.
Moleong, Lexy J. 2010. Metodologi Penelitian Kualitatif. Bandung: Remaja Rosda Muhammad, Syahid. 2018. Paradigma. Yogyakarta: Gradien Mediatama.
Nurgiyantoro, Burhan. 2013. Teori Pengkajian Fiksi. Yogyakarta: Gadjah Mada University Press.
Radhika, Fikar. 2018. Nilai Sosial Budaya Jawa dalam Novel Ahmad Tohari (Kajian Sosiologi Sastra). https://eprints.uny.ac.id/55790/ diakses pada 27 Juli 2020.
Ratna, Nyoman Kutha. 2008. Teori, Metode, dan Teknik Penelitian Sastra. (Cetakan Keempat). Yogyakarta: Pustaka Pelajar.
Semi, M. Atar. 2012. Metode Penelitian Sastra. Bandung: Angkasa. Waluya, Bagja. 2007. Sosiologi : Menyelami Fenomena Sosial di Masyarakat untuk Kelas XI Sekolah Menengah Atas/Madrasah Aliyah Program Ilmu Pengetahuan Sosial. Bandung : PT. Setia Purna Inves.
Warsito. 2012. Antropologi Budaya. Yogyakarta: Penerbit Ombak.
Wellek, Rene dan Austin Warren. 1990. Teori Kesusastraan (Diterjemahkan Oleh Melani Budianta). Jakarta: Pustaka Jaya.
Wiyatmi. 2012. Kritik Sastra Feminis: Teori dan Aplikasinya dalam Sastra Indonesia. Yogyakarta: Penerbit Ombak.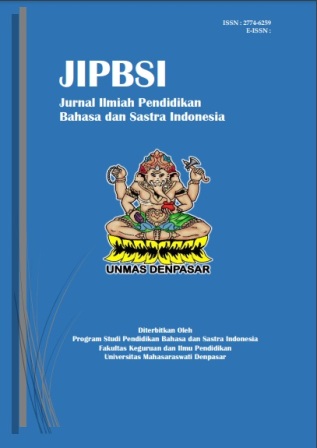 Downloads
License