ANALISIS NILAI PENDIDIKAN KARAKTER DALAM NOVEL RINDU KARYA TERE LIYE SEBAGAI BAHAN PEMBELAJARAN SASTRA
Keywords:
novelt, the values of character education, relevance, literary learning materials
Abstract
This research is a descriptive study which aims to describe and analyze the value of character education and its relevance to literary learning in the novel "Rindu" by Tere Liye. The theories that underlie this research are (1) literary works, (2) novels, (3) character education values, (4) the nature of literature and literary learning and (5) novels as literary learning materials. This study uses an instrument in the form of data, namely a tool selected and used by researchers in collecting data so that these activities become systematic. Data collection was done by using document recording methods and data reduction. The data obtained were descriptive qualitative. The steps to analyze the data were (1) describing the data, (2) analyzing the data, (3) concluding the results of the analysis. The results of this study indicate that 45 data were found including religious values (5), tolerance values (5), disciplinary values (2), independent values (2), democratic values (4), national spirit values (4), friendly values. communicative (3), the value of peace (3), the value of love to read (2), the value of social care (4), the value of honesty (2), the value of creative (2), the value of curiosity (2), the value of love for the country (2), and the value of rewarding achievement (3). Meanwhile, the value relevance of character education with literary learning is closely related to fostering good moral values for each human being to others and their environment.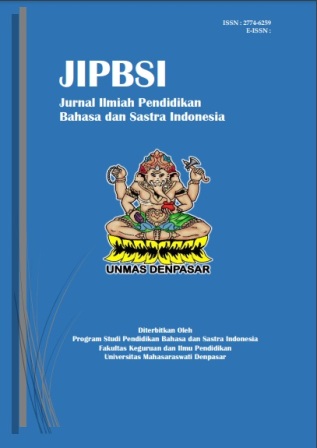 Downloads