PENGEMBANGAN DATA BASE JALAN PROVINSI DI BALI BERBASIS SISTEM INFORMASI GEOGRAFIS
Keywords:
GIS, National roads, Provincial roads, Roads characteristic, Road length
Abstract
Based on data from the Bali Provincial Statistics Agency in 2017, in 2015, the length of national roads in Bali reached 629.39 km and provincial roads were 743.34 km. Until now, information management regarding the provincial road network is still done in a conventional manner where the method is not accurate. The purpose of this paper is to design a provincial road information database in the form of a Geographic Information System based program so that the resulting data is more accurate. The data collection method applied in this study is descriptive statistical analysis, where this study describes the data that has been collected in accordance with the actual situation. Data processing using GIS was chosen because of the ability of GIS programs to be able to answer the needs of an efficient information system and be able to manage data with complex and geographically-based structures. The results of the analysis using GIS are characteristic of provincial roads in Bali in 2017 in terms of road pavement conditions, only 50.29% in good condition from the total road length of 743.34 Km, the rest in moderate and damaged conditions. Of the 111 provincial road sections, the width of provincial road pavement with a width of more than or equal to 7.5 meters is only 36 sections, while the rest is less than 7.5 meters.
References
Badan Pusat Statistik Provinsi Bali. 2017. Bali Dalam Angka 2017. Denpasar.
Endayani, Sri. 2016. Sistem Informasi Geografis Jaringan Jalan Di Wilayah Kota Samarinda Dengan Menggunakan Peta Digital. Jurnal AGRIFOR, Vol. XV, No. 1, ISSN : 1412 – 6885
Setiawan, Budi. 2013. Monitoring kondisi Jalan Berbasis Sistem Informasi Geografis Untuk Membantu perencanaan dan Pembangunan Jalan Kota Depok. UG Jurnal. Vol. 7, No. 05, 23-25
Wartika., Ghoni, Mahfud Abdul. 2013. Sistem Informasi Geografis Jaringan Jalan Kabupaten Siak Propinsi Riau . Unikom. Bandung
Surat Keputusan Gubernur Bali. 2015. Nomor: 2063/03-C/HK/2015 Tentang Ruas Jalan Menurut Statusnya Sebagai Jalan Provinsi di Provinsi Bali, Denpasar. Dinas Pekerjaan Umum dan Penataan Ruang Provinsi Bali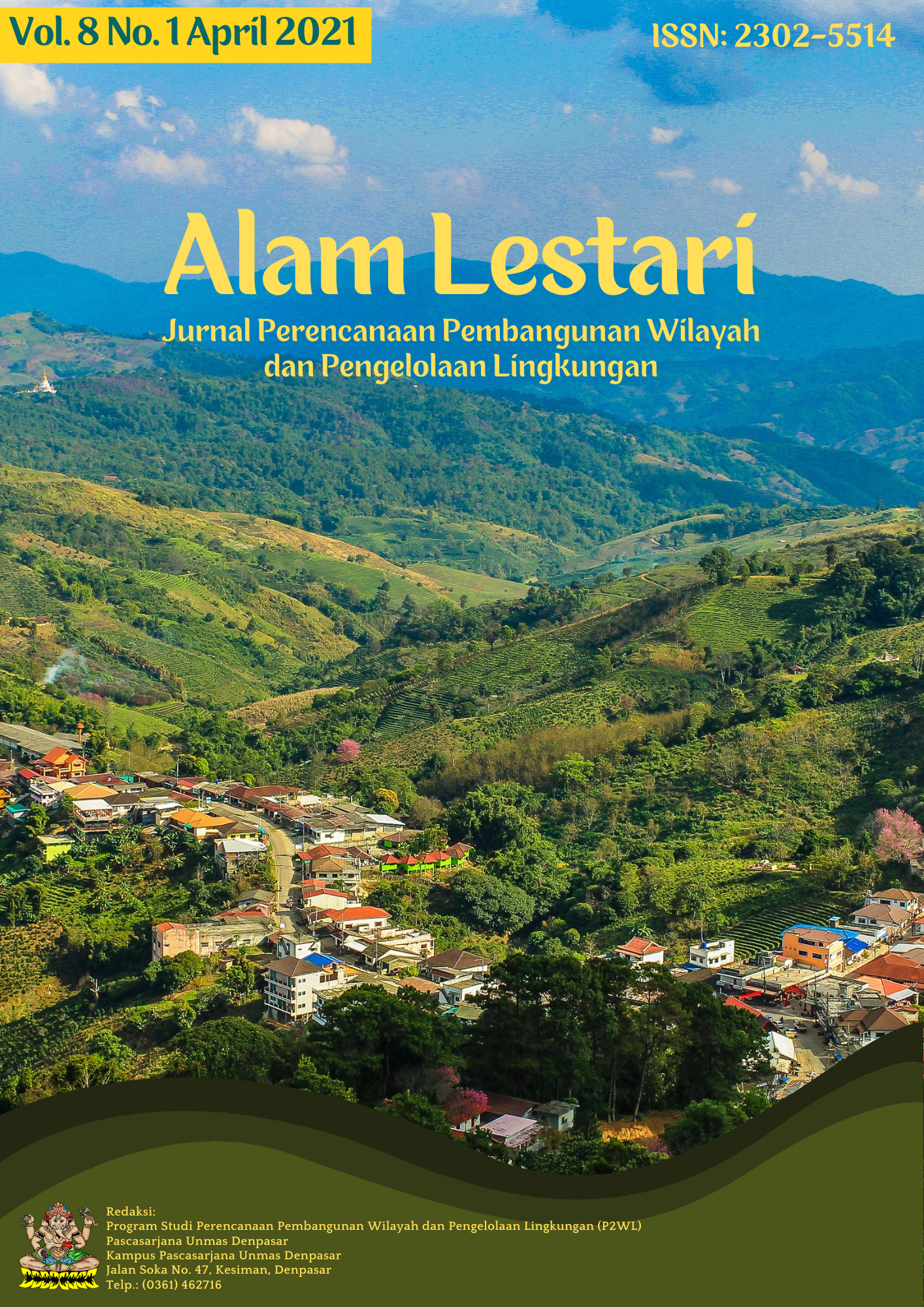 Downloads
How to Cite
Mahendra, W., & Widnyana, I. K. (2021). PENGEMBANGAN DATA BASE JALAN PROVINSI DI BALI BERBASIS SISTEM INFORMASI GEOGRAFIS . Jurnal Alam Lestari, 8(1), 57–62. Retrieved from https://e-journal.unmas.ac.id/index.php/alamlestari/article/view/4360