STRATEGI PENGEMBANGAN EKOWISATA AIR TERJUN TUKAD CEPUNG SEBAGAI DAYA TARIK WISATA DI KABUPATEN BANGLI
Keywords:
Strategy, Development, Ecorourism, SWOT, Tukad Cepung Waterfall
Abstract
Bangli Regency is actively developing the tourism industry by utilizing its potential both natural and local cultural traditions. Tourist visits to the Tukad Cepung waterfall are still very low compared to visits to Bangli Regency. So there is a need to develop Tukad Cepung waterfall strategy to increase the attractiveness of tourists to visit. The purpose of this study is to formulate a strategy for developing Tukad Cepung waterfall as a tourist attraction. Data were collected through interviews and survey questionnaires using purposive sampling technique. To formulate the tourism development strategy, an Internal-External Factor analysis and SWOT analysis were performed. The results of internal analysis showed that the position of the tukad cepung waterfall was in the cell position I with an average value of 3,083. This position is beneficial, which is to maintain and increase strength. Whereas from the external factor analysis with a value of 3.024, it is in the position of cell I, which is growing and developing. Development strategies carried out with integrated coordination from Bangli District government to local communities in supporting tourism development, by creating a strong binding policy in planning, implementing, monitoring and evaluating so that negative impacts can be anticipated, excessive exploration of resources can be avoided. It is suggested that there be cooperation between the government and the community in the development of the Tukad Cepung waterfall.
References
Byczek (2010) .Community Based Ecotourism for a Tropical Island Destination , The Case of Jaringan Ekowisata Desa – a Village Ecotourism Network on Bali.
Kartimin, (2011). Strategi Pengembangan Pantai Berawa Sebagai Daya Tarik Wisata Berbasis Kerakyatan Di Kabupaten Badung. Tesis Magister Kajian Pariwisata. Denpasar: Universitas Udayana.
Saskara.,I.Ketut. (2012). Strategi Pengembangan Daya Tarik Ekowisata Berbasis Kerakyatan di Desa Cau Belayu Kecamatan Marga Kabupaten Tabanan. Denpasar : Tesis. Universitas Udayana.
Undang-undang Nomor 25 Tahun (2000). Tentang Program Pembangunan Nasional.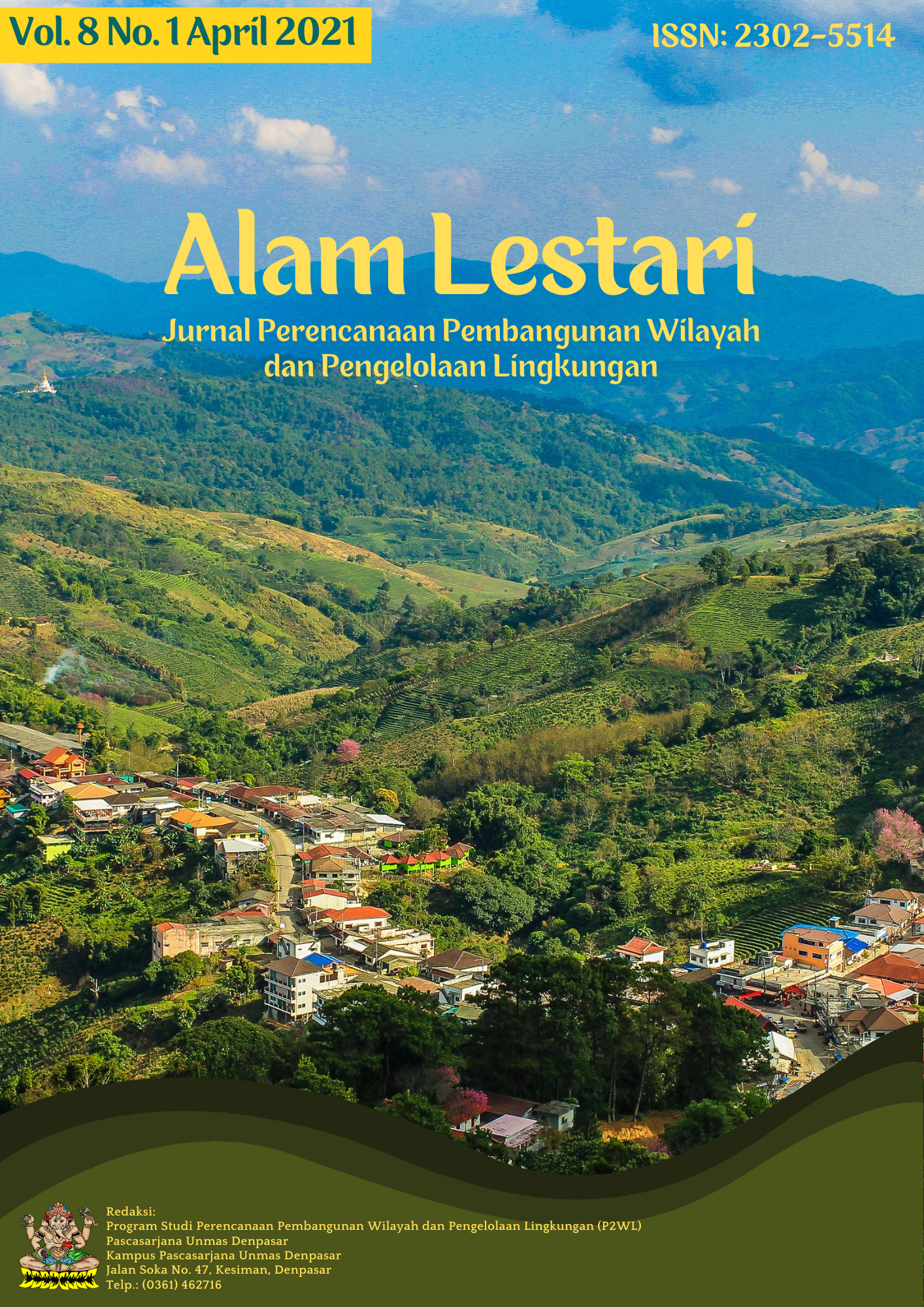 Downloads
How to Cite
Negara, I. M. D. D., Sumantra, I. K., Sukamerta, I. M., & Okbar, I. M. W. (2021). STRATEGI PENGEMBANGAN EKOWISATA AIR TERJUN TUKAD CEPUNG SEBAGAI DAYA TARIK WISATA DI KABUPATEN BANGLI. Jurnal Alam Lestari, 8(1), 1–11. Retrieved from https://e-journal.unmas.ac.id/index.php/alamlestari/article/view/4352