TINGKAT KETEPATAN ADOPSI PETANI TERHADAP SISTEM TANAM PADI JAJAR LEGOWO (DI DESA BONGKASA, KECAMATAN ABIANSEMAL)
Keywords:
production, accuracy, adoption, innovation and jajar legowo
Abstract
The agricultural sector has an important roles in national development such as in economic development and equitable development. In Bali, the production of paddy was decreased significantly and it needs an innovation in order to solve this problem.The objective of this research was to find out the level accuracy of farmer adoption on planting padi jajar legowo system and finding out the problems that faced by applying this system in Subak Sengempel Desa Bongkasa, Kecamatan Abiansemal, Kabupaten Badung. By taking consideration, this research was taken place in Subak Sengempel as the farmer has been using planting padi jajar legowo system since 2012 until this time. This research was used purposive sampling method by implementing Slovin theory. The responded was 42 subjects of 274 farmers.The results of this research which was taken in Subak Sengempel showed that the mean score of planting padi jajar legowo system was 71.01% and it could be categorized as good. This category could be categorized as good because the farmers have been applied the system as what to be applied. However, the mean score of poor category was 28.99%. This problems happened because the farmers have not been understand yet on how using this system to plant padi jajar legowo; furthermore, they have different education background on it so it made they difficult to catch the point in implementing this system. The farmers still have problems in technical, economic and social.
Downloads
Download data is not yet available.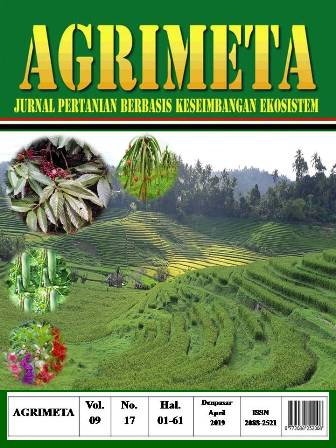 Downloads
How to Cite
Wiranata, P. W. A., Tariningsih, D., & Lestari, P. F. K. (2019). TINGKAT KETEPATAN ADOPSI PETANI TERHADAP SISTEM TANAM PADI JAJAR LEGOWO (DI DESA BONGKASA, KECAMATAN ABIANSEMAL). AGRIMETA : Jurnal Pertanian Berbasis Keseimbangan Ekosistem, 9(17). Retrieved from https://e-journal.unmas.ac.id/index.php/agrimeta/article/view/428