PENGARUH PERLAKUAN PUPUK CAIR DARI LIMBAH ORGANIK TERHADAP PERTUMBUHAN TANAMAN BUNGA PACAR AIR (Impatiens balsamina L)
Keywords:
Impatiens balsamina, organic liquid fertilizer, growth, yield
Abstract
The research  entitled "The effect of Liquid Fertilizer Treatment from Organic Waste on the Growth and Yield of (Impantiens balsamina L  aims to determine the effect of giving organic liquid fertilizer to the growth and yield of I balsamina. This study used a Randomized Block Design (RAK) with 9 treatment which were repeated 4 times so that there were 36 experimental pots. The treatments are control (without fertilize), chemical fertilizer, POC vegetable waste, fruit waste POC, fish waste POC, seaweed POC, bio urine POC, cow rumen POC, and a mixture of all types or organic liquid fertilizer, with a dose of 20% each. The result showed that the effect of POC treatment had a signicant effect on all growth parameter and yields of I balsamina, except for the parameter of the number of flowers per plant which was not significantldi fferent. The result showed that the mixed POC treatment gave the best effect but was not significantly different from all other treatments
Downloads
Download data is not yet available.
References
Aditya, M. J.W. Widnyantara & P.U. Wijayanti. 2017. Pendapatan & Risiko Produksi Usahatani Pacar Air (Impatiens balsamina Linn) pada Musim Hujan & Kemarau di Subak Saradan, Desa Sibang Gede, Kecematan Abiansemal Kabupaten Badung. E-jurnl Agribisnis & Agrowisata 6 (1): 131-141.
Buckman, H.O., Brady, N.C. 1982. Ilmu Tanah. Jakarta: Bhratara Karya Aksara (terjemahan). 788 hal.
Dan, Y. 2008. Biological Function Of Antoxidants In Plants Transformation. In Vitro Cell. Dev. Biol,-Plant, 44-161
Dwidjoseputra, 1994. Pengantar Fisiologi Tumbuhan. Jakarta : PT Gramedia Pustaka utama.
Effendi. B. H. 2004. Pupuk Dan Pemupukan. Universitas Sumatera Utara Fakultas Per-tanian .Medan.
Gardner F,P,. R,B. Pearce R,L., Mitcel. 1991. Fisiologi Tanaman. Jakarta : Indonesia University Press.
Fahriani, Y. 2007. Pengaruh Pemberian Vermi kompos Sampah Daun Terhadap Beberapa Sifat Fisik Tanah dan Pertumbuhan Tana-man Jagung (Zea Mays L) pada Alfisol Jatikerto. [S] Fakultas Pertanian. Univer-sitas Brawijaya. Malang
Herawati, S,. 1991. Fisiologi Tanaman Budidaya (Cet. 1). Jakarta: UI-Press (Universitas Indonesia).
Hidayat, A.,D. 2016. Pemanfaatan Pati Ganyong Sebagai Bahan Baku Edible Coating & Aplikasinya Pada Penyimpanan Buah apel Anna kajian Konsentrasi Pati Gayongan & Gliserol. Jurnal industria. Vol. 5, No.1.
Hananto, 2012. Pengaruh Pengomposan Limbah Organik sebagai Bahan Pembuatan Pupuk Terhadap Kandungan C,P,N dan K Dalam Pupuk Cair Yang Terbentuk. [T] Univer-sitas Gadjah Mada, Yogyakarta.
Heyne, K., 1987. Tumbuhan berguna Indonesia. Jilid II, Terjemahan Badan Litbang Kehutanan Jakarta. Dep-Hut.Jakarta.
Mandari.W.B.W. & Priyadarsini, W.R. 2018. Kesuburan Tanah & Pupuk Yoygakarta: Gosyen Pusblishing.
Radastami, K.A., Sinaga, RM, & Wakidi. 2018. Sesaji Canang Sari Dalam Ritual Yajna Masyarakat Hindu-Bali Desa Sidorejo Kabupaten Lampung Timur. Bandar Lampung : FKIPUnila.
Rinsem, W.T. 1983. Pupuk & Pemupukan. Jakarta : Bhratara Karya Aksara. (dalam Bahasa Indonesia).
Salisbury, F.B. & C.W. Ross. 1995. Fisiologi Tumbuhan Jilid I. ITB. Bandung
Sutardjo, E. 1999. Budidaya Tanaman. Bumi Aksara. Jakarta.
Widnyana, I.K., Wiswasta, IG.N. A & Pasmidi Ariati, PE. 2019. Critical Soil Optimiza Strategi Through The Utilization Of Agricultural Wastel, Livestock, and Fisheries. Jurnal Penelitian Internasional Granthaalayah, 7(12), 77-85. http://doi.org/10.5281/zenodo.3595289.
Winarno, F.G., Budiman. A.F.S., Silitonga, T., Soewardi, B. 1985. Limbah Hasil Pertanian. Jakarta: Monogrf. Kantor Deputi Menteri Pangan Bidang Peningkatan Produksi Pangan. Hal 243-254. (dalam Bahasa Indonesia)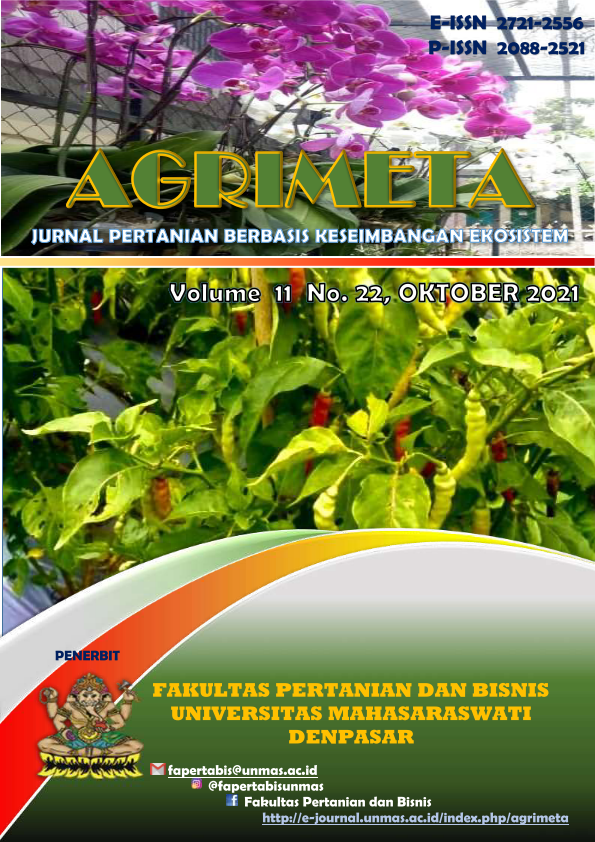 Downloads
How to Cite
Aplorida Lingu Lango, I Ketut Widnyana, I Ketut Sumantra, & Diah Yuniti. (2021). PENGARUH PERLAKUAN PUPUK CAIR DARI LIMBAH ORGANIK TERHADAP PERTUMBUHAN TANAMAN BUNGA PACAR AIR (Impatiens balsamina L). AGRIMETA : Jurnal Pertanian Berbasis Keseimbangan Ekosistem, 11(22), 12–19. Retrieved from https://e-journal.unmas.ac.id/index.php/agrimeta/article/view/4010