PENGARUH PEMBERIAN EKSTRAK BUAH MAJA (Aegle marmelos) TERHADAP MORTALITAS HAMA KEONG MAS (Pomacea canaliculata L.) PADA TANAMAN PADI VARIETAS INPARI 32
Keywords:
Maja fruit, golden snail, mortality, rice plant inpari variety 32
Abstract
The Effect of Maja Fruit (Aegle marmelos) on Mortality of Pests of Mas Conch (Pomacea canaliculata L.) on Rice Plants inpari variety 32 The golden snail (Pomaceae canaliculata L.) is one of the important pests of rice plants. This pest attack can cause yield loss of 40% - 70% in agricultural crops. This pest also has a wide spread rate in various regions in Indonesia. The control of the golden snail in this study uses maja fruit extract which contains chemical compounds Alkaloids, saponins and tannins that are toxic to pests. This research was carried out starting from August 4 to Septmbr 3, 2021. This study aimed to determine the effect of maja fruit extract on the mortality of the golden snail (Pomaceae canaliculata L.) pest on rice plants. The experimental design used was RAK with 6 treatment concentrations, namely control, 10ml, 20ml, 30ml, 40ml, 50ml. maja fruit extract and repeated 4 times. Observations show that the higher the concentration used, the higher the content of toxic compounds that can lead to higher mortality in gold snails. The highest gold snail mortality was at a concentration of 50 ml, the lower the concentration used, the higher the percentage of damage to rice plants. The highest percentage of damage to rice plants was in the 0 treatment with a percentage of 100%.
Downloads
Download data is not yet available.
References
Embriani, 2014. Status Ulat Grayak (Spodoptera Litura F.) sebagai Hama. HPT, Volume 1 No 1.
Karyadi, A. 2018 Pengaruh Variasi Konsentrasi Ekstrak Daun Mimba (Azadirachta Indica A. Juss) Terhadap Mortalitas Hama Keong Mas (Pomacea Canaliculata Lamarck
Kurniawati, N., Hidayat, W., & Suharto, H. (2008). Daya tetas dan daya hidup keong mas pada perlakuan pestisida nabati dan insektisida. In Prosiding Seminar Apresiasi Hasil Padi Menunjang P2BN. Buku (Vol. 1, pp. 393-402).
Nasution, N. R. (2019). Analisis Permintaan Benih pada Varietas Inpari-32 Terhadap Pendapatan Petani (Studi Kasus: UPTD Balai Benih Induk Padi Murni Tanjung Morawa) (Doctoral dissertation, Universitas Medan Area).
Pracaya, 2007. Hama dan Penyakit Tanaman. Edisi Revisi. Seri Agriwawasan. ed. Jakarta: Penerbit Penebar Swadaya,.
Runtunuwu, S. D., Mamarimbing, R., Tumewu, P. & Sondakh, T., 2011. The Concentration of Paclobutrazol on Growth of Seedling Cloves Height (Syzygium Aromaticum (L) Merry &Perry). Eugenia, Volume 17 No 2.
Siagian, S. W., 2018. Uji Efektifitas Perangkap Bangkai Keong Mas Dan Bangkai Ikan Untuk Mengendalikan Walang Sangit (Leptocorisa acuta Thunberg.) Pada Tanaman Padi Sawah (Oryza sativa L.) Di Kecamatan Patumbak.
Sosromarsono, S., 1994. Dasar – Dasar Pengendalian Hama Terpadu, Fakultas Pertanian Institut Pertanian.
Supriadi, 2013. Optimasi pemanfaatan berbagai jenis pestisida untuk mengendalikan hama dan penyakit tanaman. Volume 32(1).
Yuantari, M. C., Widiarnako, . B. & Sunoko, H. R., 2013. Tingkat Pengetahuan Petani dalam Menggunakan Pestisida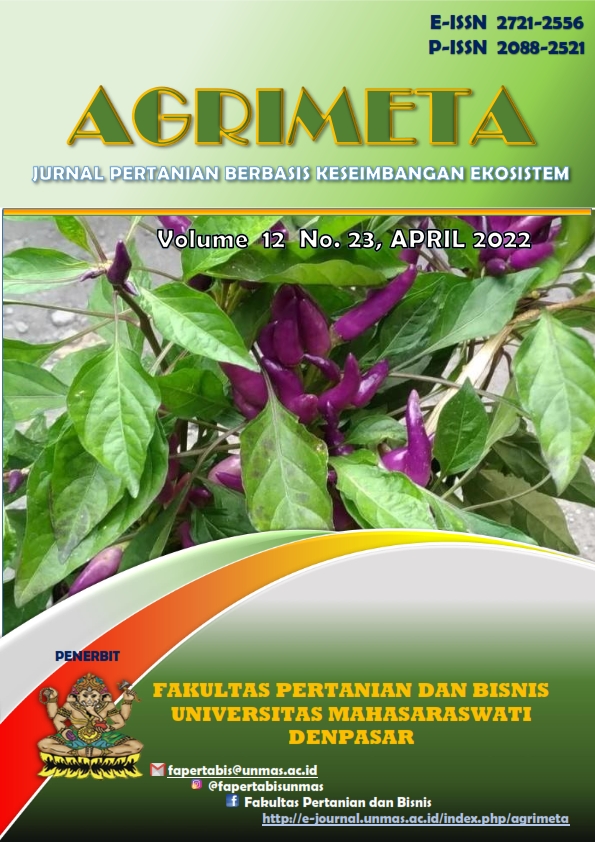 Downloads
How to Cite
Lalu Llham Suhendra, Cokorda Javandira, Eka Pasmidi Ariati, & Dewa Nyoman Raka. (2022). PENGARUH PEMBERIAN EKSTRAK BUAH MAJA (Aegle marmelos) TERHADAP MORTALITAS HAMA KEONG MAS (Pomacea canaliculata L.) PADA TANAMAN PADI VARIETAS INPARI 32. AGRIMETA : Jurnal Pertanian Berbasis Keseimbangan Ekosistem, 12(23), 51–55. Retrieved from https://e-journal.unmas.ac.id/index.php/agrimeta/article/view/3824