STRATEGI PENGEMBANGAN USAHATANI STROBERI DI DESA PANCASARI KECAMATAN SUKASADA KABUPATEN BULELENG
Keywords:
Farming, Development, Factors, Internal, External, Strawberry
Abstract
Strawberry is one of the horticultural commodities that have important economic value in Indonesia. Pancasari Village, Sukasada District, Buleleng Regency is one of the villages that has strawberry farming in Bali. The purpose of this study was to (1) analyze how the conditions of internal and external factors were for developing strawberry farming, and (2) analyzing how the strawberry development strategy was in Pancasari Village, Sukasada District, Buleleng Regency. This research was conducted from September to October 2021, with a total of 30 farmers as respondents. The results showed that Strawberry farming in Pancasari Village had a strength score of 1.91 and a weakness score of 0.82, while the opportunity score was 1.85 and the threat score was 0.79. Strawberry farming in Pancasari Village is in an aggressive growth condition with alternative strategies that can be taken, namely: (1) Improving production efficiency, quality and product appearance, through improving the quality of sustainable/environmentally friendly agricultural implementation and better management of marketing promotions. (2) Increasing cooperation between governments, especially institutions and industry that can increase farm capital for the cultivation of Strawberries with new and super varieties. Control over the conversion of agricultural land (Strawberry land), as well as policies to increase the exchange rate of Strawberry agriculture. (3) Attracting investment interest from various parties to be able to add Strawberry farming facilities, (4) Attracting agro-industry investors made from Strawberries, and (5) Strengthening joint marketing for Strawberry distribution.
Downloads
Download data is not yet available.
References
Devonian, G, Samad, M. Yusuf., 2021 Pengaruh penanganan pasca panen terhadap mutu komoditas hortikultura. Jurnal Sains dan Teknologi Indonesia 8.1 (2012).
Gunawan, 2017. Stroberi. Penebar Swadaya. Jakarta. 81 hal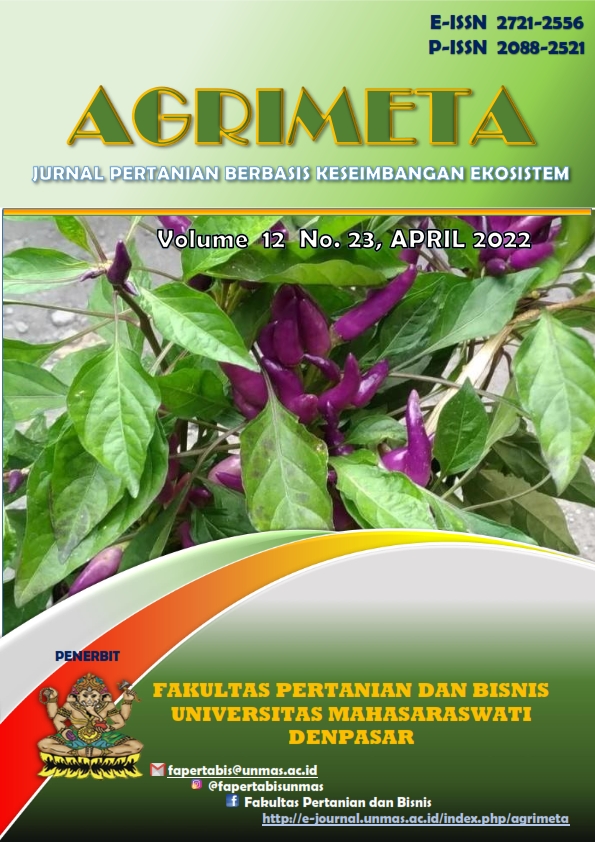 Downloads
How to Cite
Patrianus Ramai, Made Tamba, Cening Kardi, & Yulianti Sapanca. (2022). STRATEGI PENGEMBANGAN USAHATANI STROBERI DI DESA PANCASARI KECAMATAN SUKASADA KABUPATEN BULELENG. AGRIMETA : Jurnal Pertanian Berbasis Keseimbangan Ekosistem, 12(23), 34–38. Retrieved from https://e-journal.unmas.ac.id/index.php/agrimeta/article/view/3821