TINJAUAN YURIDIS TERHADAP KEWENANGAN KOMISI PEMBERANTASAN TINDAK PIDANA KORUPSI
Keywords:
Judicial review, Corruption, Customer account
Abstract
Criminal acts of corruption is not only a detriment of state but also is a breach of the economic and social rights of the community. The authority that very wide on the KPK will not give any results if not strengthened and balanced by the integrity, honesty and hard work without reservation.  This research method consists of several stages including literature study, data collection, determining method or approach being used, determining the source of the law and evaluating the results of the judicial review of the authority of the Corruption Eradication Commission in tracing bank account. The case of this research is the corruption cases that are done by the Governor of NAD in 2005 dealing with the purchase of a helicopter MI-2 brands PLC Rostov. The government gave the authority to the Corruption Eradication Commission to check the customer account of Governor of NAD (Abdullah Puteh) suspected doing corruption that is empowered with an Act to set up. The results of the judicial review of the case produces a decision where with the authority given to KPK, the corruption committed by the Governor of NAD Abdullah Puteh can be revealed.
Downloads
Download data is not yet available.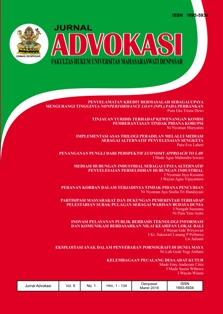 Downloads