PERLINDUNGAN HUKUM TERHADAP ANAK PENYANDANG DISABILITAS YANG DITELANTARKAN OLEH ORANG TUANYA
Keywords:
Legal Protection, Children with Disabilities, Neglected
Abstract
Children are mandate and gift from the Almighty God, which is inherent  the dignity and prestige of a complete human being, including children with disabilities. Children with disabilities need special handling, but not all parents  sincerely accept children with disabilities and give affection. Parents sometimes do not care or lack of giving attention and affection to children with disabilities. Few parents can receive children who have disabilities sincerely. This condition  caused a large amount of cases about parents who neglect children with disabilities. Research method used in this study was normative law which aimed at finding and formulating legal arguments, through analysis of the subject, the approach used in this study was legislation approach, by examining the applicable legal rules related to legal protection of children with disabilities who were abandoned by their parents. Interviews were conducted at Integrated Service Centre for Woman and Children Empowerment in Denpasar, as a support and to sharpen their normative analysis.
Downloads
Download data is not yet available.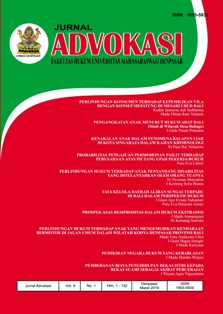 Downloads