PENGANGKATAN ANAK MENURUT HUKUM ADAT BALI (Studi di Wilayah Desa Baliage)
Keywords:
adoption, baliage village, Balinese customary law
Abstract
This research focuses on implementing Balinese Adat law regarding procedures of child adoption. The research is located in Baliage Village, considering that previous studies have been conducted in Denpasar City (a representation of the type of Apanage Village). There are two problems that will be answered in this study, such as: (1) how is the existence of the appointment in Baliage Village? (2) how is the procedure for appointment according to Balinese Adat law in Baliage Village? Primary data in this study were collected through observation and interview methods. Secondary data was collected through the library method. All data collected successfully, then processed and analyzed qualitatively.Based on the results of the study, it is known that the existence of adoption in the Baliage village area can be proven by the existence of 2 cases of adoption that occurred in 1950 and 1978. As for the procedure for adoption based on Balinese Adat law in the Baliage Village area generally through 3 stages, such as (1) preparation stage; (2) the stage of completion of administrative requirements; (3) the stage of completing the process of child adoption according to Hinduism and traditional Balinese law; (4) the administrative completion stage.     
Downloads
Download data is not yet available.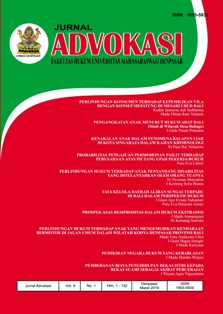 Downloads