INNOVATIVE LEARNING PRACTICES TO EMPOWER RURAL COMMUNITIES: A CASE STUDY OF A BALINESE NON-FORMAL EDUCATION
Keywords:
Innovative learning; rural community; empower; non-formal education
Abstract
Education is considered as an important tool for innovative development of rural areas. This paper aims to explore the practical usability of innovative learning models and their potentials to successfully channel the community development. A case study was employed to investigate the learning programs initiated to educate the rural community in Bali. The data for this case study was sourced from the results of in depth interviews and direct observations to various community education programs. The data was analyzed descriptively through content analysis to establish the basis for conceptualization of the innovative learning practices adopted by the Balinese community. This study found that a number of learning models deployed by the Balinese community to enhance their ability towards a new concept of sustainability. This study suggests that innovative learning helped to leverage the existing community knowledge to empower their ability to improve their life. This study is expected to delineate the basis of a framework for innovation in rural education and provide useful guidance for relevant researchers and practitioners, and could guide local community educators in Bali and other rural areas in Indonesia.
Downloads
Download data is not yet available.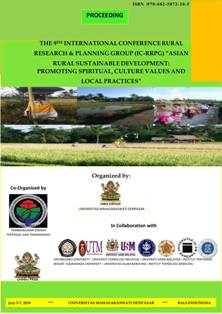 Downloads