SUSTAINABILITY OF SORGHUM AS ALTERNATIVE FOOD IN RAJI VILLAGE DEMAK REGENCY, CENTRAL JAVA PROVINCE, INDONESIA
Keywords:
sustainability; sorghum; alternative food
Abstract
Rice is an important source of carbohidrat in Indonesia, meanwhile rice demand still be a challenge. Because of that we try to explore another local source of carbohidrat, sorghum as alternative food. However, in Indonesia, sorghum has so far been regarded as a minor crop and its research and development remain insignificant. The the study aimed to explore the sustainability of sorghum as alternatif food. As alternative food sorghum has good future and sustain in economic, environment and social side. In economic side, sorghum is quite feasible, eventhough, there are no price certainty or guarantee from government, so that a lot of sorghum farmers switch to cultivate other profitable commodities. In enviroment side, sorghum is adaptable in drought condition and pest attact. In social side, cultivated sorghum is a culture. Farmer has strongly support sorghum as alternative food, base on it's benefit and function. Meanwhile farmer has high level of obstacle in processing procedure, unavailability of processing equipment and people more easily access other sources of carbohydrate.
Downloads
Download data is not yet available.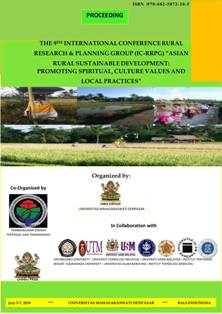 Downloads