PROSPECT AND SUSTAINABILITY OF SORGHUM PRODUCTION IN RAJI VILLAGE DEMAK REGENCY CENTRAL JAVA INDONESIA
Keywords:
economy analysis; production; sorghum
Abstract
Sorghum is an important source for food, feed and energy (bio ethanol). In the semiarid tropics, it is consume for a large segment of the human population. However, in Indonesia, sorghum has so far been regarded as a minor crop and its research and development remain insignificant. The study examined prospect and sustainability of sorghum production, through 1) identify the social-economic characteristics of farmer, 2) analyze economy feasibility and, 3) identify conditions and problems of sorghum production. Primary data were used for this study. They were obtained through interview schedule. A total of 62 households engaged in sorghum production were investigated. Data collated were analyzed using suitable statistical tools such as descriptive statistics and budgetary analysis. Result showed that social and economic condition in the development of sorghum have good future because most farmers in the productive stage, although the average education level was low but farming experience was quite good. From the economic side, sorghum was quite viable. The condition of the average farmer's land is limited (<1 ha) and most of farmers were rental status and a lot of the number of dependents, there are some factors that made farmers very selective in choosing a commodity to be cultivated. Decreasing of sorghum production in Demak due to competition with other food commodities that more profitable, more over the existing government policies not support the development of sorghum.
Downloads
Download data is not yet available.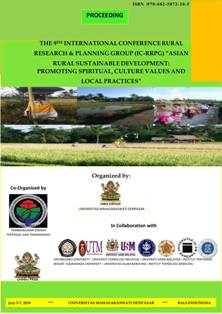 Downloads