PELATIHAN DAN BIMBINGAN TEKNIS KEWIRAUSAHAAN BAGI KELOMPOK PETERNAK AYAM DI DESA BAUMATA UTARA KECAMATAN TAEBENU KABUPATEN KUPANG
Keywords:
Chicken, village, traditional, entrepreneurship
Abstract
The system for raising chickens in North Baumata Village, Taebenu District, Kupang Regency is still traditional, and knowledge of entrepreneurship is still low. Entrepreneurial knowledge can have a positive impact on the progress of chicken farming in the North Baumata village. The purpose of this service activity is to: 1) improve chicken livestock entrepreneurship knowledge for farmers in North Baumata Village, NTT so that farmers can analyze and evaluate the economic conditions and production management, 2) form and develop the North Baumata Village community in Kupang Regency into a community who are economically independent, and 3) help improve the quality of life of the community. The method used to carry out this service activity is by counseling, demonstration (calculation of profit and loss for the effort of raising chicken, diffusion of science and technology with local feeding, sanitation, and vaccination), assistance, and evaluation. This IbM activity can help partner groups in North Baumata Village, Taebenu District, Kupang NTT Regency to be able to produce chickens that can be profitable. Partner groups are motivated in this activity so that it is expected to increase economic added value, especially for women of partner groups in North Baumata Village.
Downloads
Download data is not yet available.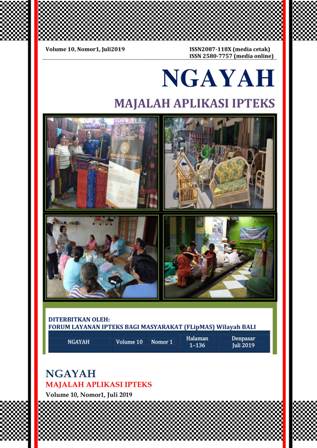 Downloads
How to Cite
Lole, U. R. (2019). PELATIHAN DAN BIMBINGAN TEKNIS KEWIRAUSAHAAN BAGI KELOMPOK PETERNAK AYAM DI DESA BAUMATA UTARA KECAMATAN TAEBENU KABUPATEN KUPANG. Ngayah: Majalah Aplikasi IPTEKS, 10(1). Retrieved from http://e-journal.unmas.ac.id/index.php/ngayah/article/view/388