DEMONSTRASI PLOT PEMBESARAN KEPITING RAJUNGAN DENGAN TEKNIK BUDIDAYA TAMBAK DI DESA MATTIRO BOMBANG KABUPATEN PANGKEP
Keywords:
Seed, Partner, Fisherman, Service, PPDM, Production, Island
Abstract
Mattiro Bombang Village Community activities to catch crabs in the sea.  The potential of this village is still not well developed so it is very profitable if the community does crab cultivation.  Problems that require handling of the increasingly reduced crab catches are the availability of crabs continuously.  To anticipate this, it is necessary to apply and touch the right techniques of crab cultivation so that this PPDM activity becomes a pilot stage.  PPDM implementation methods are mentoring and demonstration plots. The main work that was obtained by the fishermen's partners was the demonstration plot of rajungan crab cultivation in the pond that was applied starting from the pond construction, pond drying, filling water, place of maintenance, seed selection, seed transport, seed stocking, maintenance, water quality, feeding, growth, pest management disease, and harvest.  With the improvement of skills, fisherman partners can produce large rajungan crabs weighing 200 grams per head to meet market needs and be available continuously without expecting catches at sea.
Downloads
Download data is not yet available.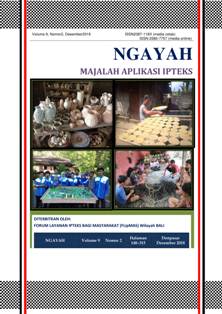 Downloads
How to Cite
Hakim, I., Syafiuddin, S., & Salam, N. I. (2019). DEMONSTRASI PLOT PEMBESARAN KEPITING RAJUNGAN DENGAN TEKNIK BUDIDAYA TAMBAK DI DESA MATTIRO BOMBANG KABUPATEN PANGKEP. Ngayah: Majalah Aplikasi IPTEKS, 9(2). Retrieved from http://e-journal.unmas.ac.id/index.php/ngayah/article/view/204