PENGELOLAAN DAN PENGGUNAAN OBAT YANG RASIONAL DI RUMAH TANGGA UNTUK MENDUKUNG GERAKAN MASYARAKAT CERMAT MENGGUNAKAN OBAT
Keywords:
Banjar Sakah, rational use of medicine, rational treatment
Abstract
When used properly, over-the-counter and over-the-counter drugs should be able to help the community in self-medication safely and effectively. But unfortunately, it is often found that the treatment itself becomes very wasteful because it takes drugs that are not really needed, or can be dangerous, for example because of the use that is not in accordance with the rules of use. However, over-the-counter and free drugs are not necessarily free of side-effects, so their use should be in accordance with the indications, duration of correct use, accompanied by user knowledge of the risks of side effects and contraindications (Suryawati, 1997). Although it looks simple, drug use may pose many risks, from mild to severe risk that can result in death. In response to these problems, we are implementing community service with a target so that people understand how rational drug management and use in households and communities can utilize the first aid box in public places. To improve the community's knowledge on drug management in household and rational drug usage will be counseling coupled with discussion using Community Based Interactive Activity Approach Method (CBIA) Method. Devotion performed on May 7, 2017 located in Banjar Sakah, Pemogan Village, Kec. Denpasar Selatan. To assess the effectiveness of the program, several samples were taken to follow pre test and post test. According to the results of the analysis of pre test and post test samples generally seen an increase in knowledge of participants, but a statistically significant increase only knowledge on question 9 part 2 that is the understanding of respondents about kontraindikasi.
Downloads
Download data is not yet available.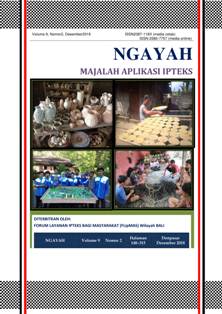 Downloads
How to Cite
Antari, N. P. U., Suwantara, I. P. T., & Shantini S., N. M. D. (2019). PENGELOLAAN DAN PENGGUNAAN OBAT YANG RASIONAL DI RUMAH TANGGA UNTUK MENDUKUNG GERAKAN MASYARAKAT CERMAT MENGGUNAKAN OBAT. Ngayah: Majalah Aplikasi IPTEKS, 9(2). Retrieved from http://e-journal.unmas.ac.id/index.php/ngayah/article/view/198