PEMANFAATAN BUAH NYIRIH DAN LINDUR UNTUK MENDORONG MASYARAKAT MELESTARIKAN HUTAN MANGROVE
Keywords:
mangrove, body srub, body butter, lindur chips
Abstract
Hutan mangrove di Bali tersebar menjadi beberapa lokasi dengan total areal seluas 3067,71 Ha. Kawasan hutan yang luas sangat berpotensi untuk dimanfaatkan dalam menunjang ekonomi penduduk pesisir. Secara empiris buah lindur sebagai salah satu hasil hutan mangrove sering digunakan oleh masyarakat pesisir sebagai pengganti beras saat gagal panen. Demikian pula buah nyirih yang banyak dimanfaatkan untuk melindungi kulit saat pergi melaut oleh para nelayan. Penelitian pun dilakukan untuk mengolah bahan-bahan tersebut sehingga dapat dimanfaatkan oleh masyarakat untuk menunjang perekonomian. Mitra pengabdian masyarakat adalah dua Kelompok Wanita Tani pengolah hasil hutan mangrove. Kegiatan pengabdian dibiayaiDirektorat Riset dan Pengabdian Masyarakat Direktorat Jenderal Penggunaan Riset dan Pengembangan, Kementrian Riset, Teknologi, dan Pendidikan Tinggi.Berdasarkan hasil observasi, permasalahan Mitra-1 dan Mitra-2 terdapat pada bidang produksi, formulasi, pemasaran, sarana produksi yang masih terbatas dan dalam bidang manajemen keuangan. Luaran yang dijadikan target dalam pelaksaan program pengabdian ini antara lain perbaikan formulasibody scrub dan body lotion buah nyirih, peningkatan kualitas sarana dan teknologi produksi, pendampingan mitra dalam penyusunanmarketing mix, membuat pembukuan, merancang Standar Operasional Prosedur (SOP) dan menginformasikan cara memperoleh notifikasi produk kosmetik dan nomor PIRT. Melalui kegiatan ini diharapkan masyarakat mampu membuat produk yang memiliki nilai jual tinggi, serta mampu mengelola proses produksi dan pencatatan keuangan dari kegiatan tersebut untuk menunjang perekonomian. Dengan demikian secara tidak langsung masyarakat pun akan ikut menjaga kelestarian hutan mangrove yang telah membantu perekonomian mereka.
The mangrove forest in Bali is spread over several locations with total area of 3067,71 Ha. Large forest areas are potential to be utilized to support coastal economy. Empirically lindur as one of the mangrove forest is often used by coastal communities as a substitute for rice when crop failure. Similarly, nyirih fruit is widely used to protect the skin when going to sea by the fishermen. Research was conducted to process these materials so that can be utilized by the community to support the economy. Community service partners are two Kelompok Wanita Tani processing of mangrove forest products. The service activities are funded by Directorate of Research and Community Service of Directorate General of Research and Development, Ministry of Research, Technology and Higher Education. Based on observations, the problems of Partners and Partners-2 are in the areas of production, formulation, marketing, production facilities are still limited and in the field of financial management. The outcomes targeted in the implementation of this service program include the improvement of body scrub formulation and body lotion of nyirih fruit, improving the quality of facilities and production technology, assisting partners in preparing marketing mix, making bookkeeping, designing Standard Operating Procedures (SOP) and informing how to get notification cosmetic products and PIRT numbers. Through this activity, people are expected to be able to make products that have high selling value, and able to manage the production process and financial recording of these activities to support the economy. Thus indirectly the community will also take care of the sustainability of mangrove forests that have helped their income.
Downloads
Download data is not yet available.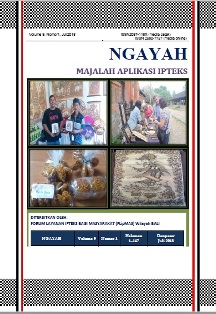 Downloads
How to Cite
Suwantara, I. P. T., Antari, N. P. U., & Megawati, F. (2018). PEMANFAATAN BUAH NYIRIH DAN LINDUR UNTUK MENDORONG MASYARAKAT MELESTARIKAN HUTAN MANGROVE. Ngayah: Majalah Aplikasi IPTEKS, 9(1). Retrieved from http://e-journal.unmas.ac.id/index.php/ngayah/article/view/15