PEMANFAATAN TEKNOLOGI TETAP GUNA UNTUK PENINGKATAN PRODUKSI DAN PEMASARAN USAHA KERAMIK PEJATEN TABANAN
Keywords:
ceramics, production equipment, online marketing, product displays
Abstract
Ceramic crafts are one of the flagship products of the Tabanan region. Dwi Sula and Toy Arsa are handicraft businesses that produce ceramic products. Dwi Sula are located in Banjar Pamesan, Pejaten Village, Kediri District, Tabanan Regency. While Arsa Toy is located in Banjar Simpangan, Pejaten Village, Kediri District, Tabanan Regency. At present, there are several obstacles to the ceramics business such as lack of order in ceramic products, production equipment, and limitations in marketing. Based on the problems faced, there will be gradual activities namely production and marketing management. Activities began with socialization, provision of production equipment, arrangement of product display, creation of online media accounts in the form of social media and e-commerce and training in online media use. The achievement indicators of this activity are the product display arrangement reached 50%, the amount of product production increased by 50%, the use of online marketing media, and there is an increase in the product market by 50%. After the activity was carried out, the activity of arranging the display of the target product was achieved, namely 80% of the products had been displayed on the display. The use of online marketing media targets is achieved, 2 SME members can use online marketing media. For an increase in the amount of production reached 50%. To increase the product market reached 50%.
Downloads
Download data is not yet available.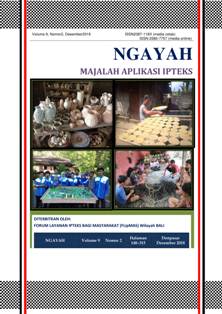 Downloads
How to Cite
Sarja, N. L. A. K. Y., Dewi, N. A. N., & Wiyati, R. K. (2019). PEMANFAATAN TEKNOLOGI TETAP GUNA UNTUK PENINGKATAN PRODUKSI DAN PEMASARAN USAHA KERAMIK PEJATEN TABANAN. Ngayah: Majalah Aplikasi IPTEKS, 9(2). Retrieved from http://e-journal.unmas.ac.id/index.php/ngayah/article/view/196