IbPE KERAJINAN PERAK DI GIANYAR DAN DENPASAR BALI
Keywords:
silver,product design, wax, website
Abstract
Kerajinan perak merupakan salah satu kerajinan tangan terdapat pada tersebar di daerah di Bali. Karya Kita Silver dan Budi Silver merupakan salah satu usaha yang memproduksi dan menjual berbagai produk perak yang terletak di Kesiman Denpasar dan Celuk Gianyar. Terdapat beberapa kendala berupa pada usaha perak berupa kurangnya variasi desain produk, kurangnya pengetahuan mengenai ekspor dan kurang luasnya pemasaran produk khususnya pemasaran online. Pada kegiatan pengabdian ini difokuskan pada manajemen produksi dan manajemen pemasaran.Kegiatan dimulai dengan sosialisasi, pelatihan desain produk perak, pelatihan pembuatan wax produk perak, pelatihan manajemen ekspor, pembuatan website pemasaran, pelatihan penggunaan website pemasaran, pengadaan alat penunjang pemasaran, kemasan dan labeling produk serta evaluasi dan monitoring kegiatan. Pada aspek produksi diadakan kegiatan pelatihan desain dan wax produk dilakukan agar terciptanya variasi dari desain produk usaha. Sedangkan dari aspek pemasaran, penggunaan media pemasaran online berupa website agar pemesanan produk dapat dilakukan baik dari dalam negeri maupun luar negeri. Selain website, pemberian peralatan untuk menunjang pemasaran seperti notebook dan tab sehingga mitra dapat dengan mudah mengakses website. Perluasan pemasaran lainnya dilakukan dengan memberikan kemasan produk dan label kemasan produk sehingga produk lebih dikenal oleh masyarakat. Indikator capaian adalah peningkatan pendapatan mitra hingga 50%, 100% anggota mampu membuat desain produk danwaxproduk, mitra mempunyai website pemasaran dan dapat menggunakan website tersebut, meluasnya pasar produk sebanyak 30%. Setelah dilakukan kegiatan dan evaluasi,peningkatan pendapatan mitra 53%. Untuk pembuatan desain dan wax, 80% anggota mampu membuat desain dan wax produk perak. Dalam hal penggunaan website sebagai media pemasaran online tercapai, 2 orang anggota usaha dapat menggunakan website. Untuk perluasan pasar produk 33% meningkat, yaitu dengan dapat melakukan ekspor ke Amerika.
Silver handicraft is one of the handicraft found in scattered area in Bali. Karya Kita Silver and Budi Silver is one of the businesses that produce and sell various silver products located in Kesiman Denpasar and Celuk Gianyar. There are several obstacles in the form of silver business in the form of a lack of product design variation, lack of knowledge about exports and less extensive marketing of products, especially online marketing. In this activity focused on production management and marketing management. The activities begin with socialization, silver product design training, silver product waxing training, export management training, website marketing, website marketing training, procurement of marketing support tools, product packaging and labeling as well as evaluation and monitoring activities. In production aspect, design training activities and product wax are conducted to create variation of product business design. While from the aspect of marketing, use of online marketing media in the form of website ordering product can be done either from domestic or abroad. In addition to websites, the provision of equipment to support marketing such as notebooks and tabs so that partners can easily access the website. Other marketing expansions are carried out by providing product packaging and product packaging labels so that the product is better known to the public. Indicator of achievement is the increase of partner's income up to 50%, 100% members are able to make product design and product wax, partners have marketing website and can use the website, widespread product market as much as 30%. After conducting the activity and evaluation, the revenue increase of partners is 53%. For design and wax making, 80% of members are able to make designs and waxes of silver products. In the case of using the website as an online marketing medium is achieved, 2 business members can use the website. For 33% market expansion of products increased, that is to be able to export to America.
Downloads
Download data is not yet available.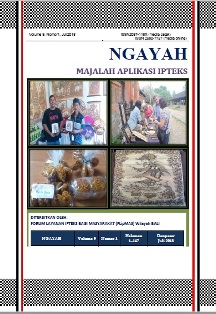 Downloads
How to Cite
Sarja, N. L. A. K. Y., Wiyati, R. K., Suwirmayanti, L. G. P., & Ratniasih, N. L. (2018). IbPE KERAJINAN PERAK DI GIANYAR DAN DENPASAR BALI. Ngayah: Majalah Aplikasi IPTEKS, 9(1). Retrieved from http://e-journal.unmas.ac.id/index.php/ngayah/article/view/14