PROGRAM PENGEMBANGAN PADI ORGANIK DI DESA MENGANI KECAMATAN KINTAMANI KABUPATEN BANGLI PROVINSI BALI
Keywords:
organic farming, organic pesticides, socialization, training, mentoring
Abstract
Mengani Village, Kintamani Subdistrict, Bangli Regency, is a partner village of the Faculty of Agriculture, Mahasaraswati University, Denpasar. The distance to the subdistrict capital is 17 km, and to the capital of Bangli Regency is 37 km, while the distance to the provincial capital is around 50 km. The land area of ​​Mengani village is 437 hectares, of which 25 hectares are paddy fields, and the rest are plantations and yards. The Mengani village farmers have been planting well-adapted rice on the highlands, namely the Red Pilian variety which is rice with a red grain. But there is a belief that has been believed for generations that rice cultivation does not need to be fertilized either organic fertilizer or chemical fertilizers or pesticides. As a result, production per land area is very low at around 2-3 tons per hectare. Seeing such conditions, it is necessary to make efforts to increase the productivity of   "Pilian Merah" rice organically through the making of organic rice demonstration plots by applying a good cultivation system that is good soil cultivation, planting young seedlings, planting only 2 seedlings, minimal water, fertilizing with organic fertilizer local, and the use of vegetable pesticides for the control of rice pests and diseases. The method of implementing science and technology is carried out through socialization, training, assistance, demonstration of organic rice plots. The results of the activity showed that there was an increase in farmers' knowledge about organic farming, from the initial 50% of farmers who did not understand to 100% understanding of organic farming, understanding of the dangers of synthetic chemical fertilizers to soil and environment from 70% of farmers who did not understand 100% understanding , understanding of the dangers of synthetic chemical pesticides to useful insects and the environment from the beginning 70% of farmers did not understand increased to100% understanding. Besides that, there was an increase in the skills of farmers in making organic fertilizers, which was originally 30% unskilled to 80% skilled, the skills of farmers in making organic pesticides originally 100% unskilled increased to 50% quite skilled. The conclusion that can be drawn from the implementation of science and technology is that the activities carried out related to the understanding and skills of farmers in supporting organic farming have succeeded in increasing farmers' understanding and skills so that sustainability in the field will run well.
Downloads
Download data is not yet available.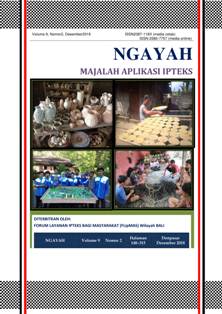 Downloads
How to Cite
Ariati, P. E. P., Widnyana, I. K., Anom, I. G. N., & Ekayanti, N. W. (2019). PROGRAM PENGEMBANGAN PADI ORGANIK DI DESA MENGANI KECAMATAN KINTAMANI KABUPATEN BANGLI PROVINSI BALI. Ngayah: Majalah Aplikasi IPTEKS, 9(2). Retrieved from http://e-journal.unmas.ac.id/index.php/ngayah/article/view/191