AJEG BALI DENGAN JAJE ULI: USAHA MIKRO KECIL DAN MENENGAH (UMKM) KUBE CEMPAKA DAN KELOMPOK MEKAR PEMBUAT JAJE ULI ASLI BALI
Keywords:
Production, Jaje Uli, PKM, Cash Flow
Abstract
Religious activities in Bali are never separated from the supporting facilities and infrastructure needed to organize the ceremony. So many facilities are needed so that many small and medium businesses are emerging to meet the needs of the Upakara. Jaje uli is one of the traditional Balinese snacks that is always used in every religious ceremony. This makes the production of jaje uli more attractive due to promising results. In Luwus Village, there are Mekar groups and Kube Cempaka which produce jaje uli. But unfortunately, the production activities of these two groups experienced problems due to the lack of facilities and infrastructure to increase their production businesses. For this reason in this activity the PKM Unmas Denpasar team provided assistance for production facilities as well as financial management and product labeling. The results of this PKM activity are that partners are still able to produce jaje uli during the rainy season, and are able to start maintaining the hygiene and hiegiene of the product in the production process, as well as knowing the exact amount of profit in its production activities. This is certainly very helpful for partners to manage their business so they can remain productive. Management activities, especially bookkeeping are needed in this medium business, because financial statements can be used to describe the financial condition of a business. So it can be concluded that the activities of the community partnership program that have been implemented are able to help groups of entrepreneurs in the field of production and management. The target can be achieved and in accordance with the expected outcomes, namely that it has been able to equip the facilities and infrastructure in the field of production and is able to manage partners to create financial flows.
Downloads
Download data is not yet available.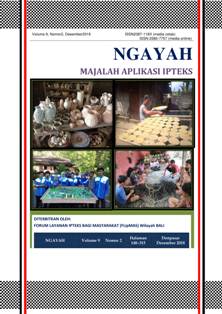 Downloads
How to Cite
Ekayanti, N. W., & Widiadnyana, I. B. M. (2019). AJEG BALI DENGAN JAJE ULI: USAHA MIKRO KECIL DAN MENENGAH (UMKM) KUBE CEMPAKA DAN KELOMPOK MEKAR PEMBUAT JAJE ULI ASLI BALI. Ngayah: Majalah Aplikasi IPTEKS, 9(2). Retrieved from http://e-journal.unmas.ac.id/index.php/ngayah/article/view/189