ANALISIS STURKTUR INTRINSIK DAN EKSTRINSIK NOVEL LITTLE WOMAN KARYA LOUISA MAY ALCOTT DAN IMPLIKASINYA DALAM PEMBELAJARAN SASTRA
Keywords:
Analysis, Intrinsic Element, Extrinsic Elements, Implications, Novel
Abstract
The background of the problem in this research is aimed at developing students' thinking power towards literary works in the world of fictional or non-viction stories including intrinsic elements and extrinsic elements in Louisa May Alcott's Little Woman novel and its implications in learning literature. Intrinsic elements include themes, characters, setting, plot, point of view and mandate, while extrinsic elements include the author's background and values contained in the novel. The method used in this research is the observation method while the data source used in this research is a novel entitled Little Woman by Louisa May Alcott. The results of the analysis show (1) themes: struggle for life, friendship and romance, (2) characters, (3) plot: plot structure using a forward plot that is told from the beginning to the end of the story, (4) setting: divided into three namely place, time , and atmosphere, (5) point of view: using a third person point of view (name of person), (6) message: the message conveyed in the novel Little Woman by the author to the reader. While extrinsic elements include (1) the author's background and the values contained (moral, social, cultural, religious, and educational values). The implication of the Little Woman novel in learning literature is that this research can be used as a reference for students in analyzing a novel about the intrinsic and extrinsic elements contained in it.
References
Abrams, M.H. 1981. A Glossary of Literary Terms. Cet. IV. New York: Holt, Rinehart, and Winston.
Aminuddin, 2004. Pengantar Apresiasi Karya Sastra. Bandung: Sinar Baru.
Algensindo Esten,Mursal. 1978.Kesusasteraan:Pengantar Teori dan Sejarah. Bandung.Angkasa.
Elen,Sugiyono. 2019. Metode Penelitian Kualitatif. Bandung: Alfabeta.
Nurgiyantoro, Burhan. 2002. Teori Pengkajian Fiksi. Yogyakarta: Gadjah Mada Press.
Nurgiyantoro,Burhan. 2007. Teori Pengkajian Sastra. Yogyakarta. Gadja Mada University
Nurgiyantoro,Burhan.(2010). Teori Pengkajian Fiksi. Yogyakarta: Universitas Gajah Mada
Sumardjo, Y. (1997). Apresiasi Kesusastraan. Jakarta: Gramedia
Suroto.1989. Teori dan Bimbingan Apresiasi Sastra Indonesia untuk SMTA. Jakarta: Erlangga.
Saryono. 2009. Pengantar Apresiasi Sastra. Malang: Universitas Negeri Malang.
Stanton,Robert.1965.An Introduction to Fiction.New York:Holt Renehart and Widnston Inc.
Sugiyono (2019). Metode Penelitian Kuantitatif, Kualitatif dan R&D. Alfabeta. Bandung
Tarigan, Henry Guntur. 1991. PrinsipPrinsip Dasar Sastra. Bandung: Angkasa.
Teeuw,A.1984. Sastra dan ilmu sastra:Pengantar Teori Sastra.Jakarta:Pustaka Jaya
Wicaksono, Andri, 2017.Pengkajian Prosa Fiksi.Yogyakarta: Garudhawaca.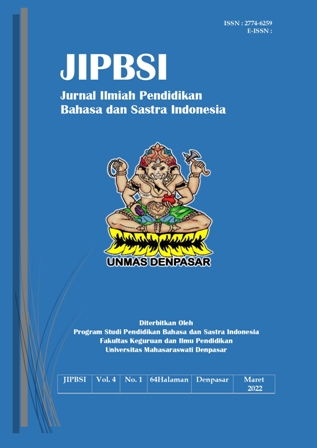 Downloads
License