STRATEGI PENGEMBANGAN AGROWISATA BALI KOPI MEKAR DI DESA GULINGAN KECAMATAN MENGWI KABUPATEN BADUNG
Albinus Bahur

Mahasiswa Program Studi Agribisnis, Fakultas Pertanian dan Bisnis, Universitas Mahasaraswati Denpasar

Nyoman Utari Vipriyanti

Dosen Program Studi Agribisnis, Fakultas Pertanian dan Bisnis, Universitas Mahasaraswati Denpasar

Putu Fajar Kartika Lestari

Dosen Program Studi Agribisnis, Fakultas Pertanian dan Bisnis, Universitas Mahasaraswati Denpasar
Keywords:
strategy Agrotourism, Analysis SWOT
Abstract
Agro-tourism is part of a tourist attraction that utilizes agricultural business (agro) as a tourist attraction. The aim is to expand knowledge. Through the development of agrotourism that emphasizes local culture in land resources, as well as maintaining local culture and technology (indigenous knowledge) which are generally in accordance with the conditions of the natural environment. The purpose of the study is to identify internal and external factors that are strengths, weaknesses, opportunities and threats for Bali Kopi Mekar agro-tourism. Formulate the right strategy to achieve maximum results in the Bali Kopi Mekar agro-tourism. The number of samples in this study were 30 respondents, the method of determining the sample by population or census methods. The analysis technique uses SWOT analysis. The results showed the identification of internal strategic factors in the Bali Kopi Mekar Agrotourism which became a strength was the quality of Bali Kopi Mekar which was produced well, had a beautiful view, the Bali Kopi Mekar area had a good level of soil fertility. While internal factors that are a weakness are tourist visits do not come every day, promotions are still limited, the ability of employees in foreign languages is still reduced. Identification of external strategic factors in Bali Mekar Coffee Agro as an opportunity is the agro-tourism sector that is increasingly developing and in demand by the community, agro-tourism has an appeal especially for urban communities for nature tours looking for freshness that cannot be found in urban areas, the interest of visitors to come back at another time. While the strategic factor that is a threat is that there are several attractions around the Bali Kopi Mekar Agro Tourism area, lack of community participation around in the development of Bali Kopi Mekar Agro Tourism, climate conditions that cannot be predicted. Bali Kopi Mekar Agrotourism Strategy using the SWOT Matrix.
Downloads
Download data is not yet available.
References
Afriadi Hendrizulafan. 2014. Fasilitas Agrowisata.
Astuti. 2014. Potensi Agrowisata dalam Meningkat Pengembangan Parawisata
Fahmi, Irham. 2015. Manajemen Investasi. Salemba Empat: Jakarta
I Gede dan Gayatri, putu G. 2005. Sosiologi Pariwisata. Penerbit Andi: Yogyakarta.
Ibnu Jahar. 2008. Agrowisata Tanaman Buah Di Saree Tema: Aritektur Hijau. Skripsi. Banda Aceh
Nurisjah S. 2001. Pengembangan kawasan wisata Agro (Agrotourism).
Pitana. Poerwodaminoto. 1999. Kamus Besar Bahasa Indonesia. Balai Pustaka: Jakarta
Rangkuti Fredo .2013. Analisis SWOT: Terkait Membedah Kasus Bisnis. Gramedia Pustaka Utama.
Soemarwoto. 1990. Analisis tentang Dampak Lingkungan.
Sugiyono. 2012. Metode Kuantitatif Kualitatif dan R&D. Alfabeta: Bandung. Tirtaminata dan
fachrudin. 1996. Daya Tarik Dan Pengelolaan Agrowisata. Penebar Swadaya: Jakarta.
Yusmini. 2011. Analisis Finansial KUD Mandiri Mojopahit Jaya Desa Sari Galuh Kecamatan Tepung Raya Kabupaten Tampa. Undang-Undang Republik Indonesia No 10 Tahun 2009 tentang Kepariwisataan.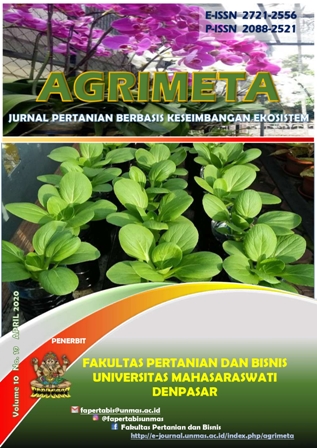 How to Cite
Bahur, A., Vipriyanti, N. U., & Lestari, P. F. K. (2020). STRATEGI PENGEMBANGAN AGROWISATA BALI KOPI MEKAR DI DESA GULINGAN KECAMATAN MENGWI KABUPATEN BADUNG. Agrimeta: Jurnal Pertanian Berbasis Keseimbangan Ekosistem, 10(19), 47-51. Retrieved from http://e-journal.unmas.ac.id/index.php/agrimeta/article/view/793