RENTABILITAS USAHA PENJUALAN GABAH DI SUBAK DELOD SEMA DESA SADING KECAMATAN MENGWI KABUPATEN BADUNG
Monika Karo

Mahasiswa Program Studi Agribisnis, Fakultas Pertanian dan Bisnis, Universitas Mahasaraswati Denpasar

I Ketut Arnawa

Dosen Program Studi Agribisnis, Fakultas Pertanian dan Bisnis, Universitas Mahasaraswati Denpasar

Ni Gst. Ag. Gde Eka Martiningsih

Dosen Program Studi Agribisnis, Fakultas Pertanian dan Bisnis, Universitas Mahasaraswati Denpasar
Keywords:
Rentability, Grain, Subak, Marketing
Abstract
The objectives of the study are: To determine the profitability of the expenditures of grain sales business groups in Subak Delod Sema, Sading Village, Mengwi District, Badung Regency and to determine the factors of grain selling Rentability in Subak Delod Sema Sading Village, Mengwi District, Badung Regency in December 2019 until February 2020. The location of this study was chosen by determining the location intentionally (Purposive) of 40 people employee ratio. The method used in this study is Rentability and Multiple Linear Regression Analysis The results of this study indicate that: The amount of profitability per month of grain sales business in Subak Delod Sema Sading Village in observing the last production cycle period (9th) is 4.41%, while Average Profitability per production cycle from observing 9 production cycles from 2017 - 2019 is 3.09%. Factors that influence Rentability are the number of processed unhusked rice (GKP) processed and operating profit while the sale value of gkg production does not have a statistically significant effect on Rentability.
Downloads
Download data is not yet available.
References
Ariani ,Mewa. 2007. Penguatan Ketahanan Pangan Daerah untuk Mendukung Ketahanan Pangan Nasional. Pusat Analisis dan Kebijakan Pertanian. Bogor.
Badan Pusat Statistik (BPS). 2016. Statistik Daerah Kecamatan Umbulharjo 2012. Badan Pusat Statistik Kota Yogyakarta.
Bambang Riyanto, 1995, Dasar-Dasar Pembelanjaan Perusahaan. Yayasan Penerbit Gajah Mada: Yogyakarta.
Cannon,Pereaut dan McCarthy. 2009. Pemasaran Dasar Pendekatan Manajerial Global Buku 2 Edisi 16. Salemba Empat: Jakarta.
Harahap, Sofyan Syafri. 1998. Analisa Kritis atas Laporan Keuangan.
Kasmir. 2011. Analisis Laporan Keuangan. PT. Raja Grafindo Persada: Jakarta.
Kolter. 2015 "Marketing an Introducing Prentice Hall twelfth edition," Pearson Education Inc: England.
Kotler. 2010. Marketing Management. PT. Indeks Kelompok Gramedia: Jakarta.
Munawir,S. 2007. Analisis Lapangan Keuangan. Edisi Keempat. Libert: Yogyakarta.
Pertiwi, Pitma. 2015. Analisis Faktor-Faktor yang Mempengaruhi Pendapatan Tenaga Kerja di Daerah Istimewa Yogyakarta: Yogyakarta
Prasekti,Y.H. 2015. Analisis Ekonomi Usaha Penangkar Benih Padi Ciberang di Kelurahan Tamanan Kecamatan Tulungagung, Kabupaten Tulungagung. Jurnal Agribisnis Unita.
Subejo. 2013. Bunga Rampai Pembangunan Pertanian dan Pedesaan. Universitas Indonesia Press: Jakarta.
Sugiyono. 2014. Metode Penelitian Pendidikan Pendekatan Kuantitatif, Kualitatif, dan R&D. Alfabeta: Bandung.
Sutrisno. 2003. Manajemen Keuangan: Teori Konsep dan Aplikasi. Edisi pertama EKONISIA: Yogyakarta.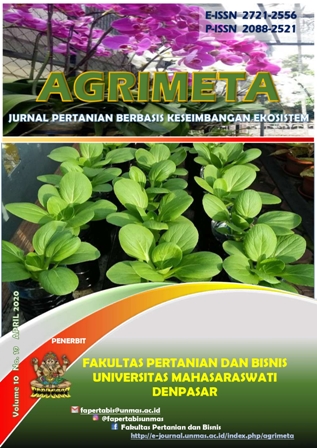 How to Cite
Karo, M., Arnawa, I. K., & Martiningsih, N. G. A. G. E. (2020). RENTABILITAS USAHA PENJUALAN GABAH DI SUBAK DELOD SEMA DESA SADING KECAMATAN MENGWI KABUPATEN BADUNG. Agrimeta: Jurnal Pertanian Berbasis Keseimbangan Ekosistem, 10(19), 42-47. Retrieved from http://e-journal.unmas.ac.id/index.php/agrimeta/article/view/792