PENGGUNAAN ZAT PERANGSANG TUMBUH INDOLE BUTYRIC ACID (IBA) PADA STEK KEMBANG KERTAS (Bougainvillea spectabilis)
Fransiska Suarni

Mahasiswa Program Studi Agroteknologi, Fakultas Pertanian dan Bisnis, Universitas Mahasaraswati Denpasar

I Made Sukerta

Dosen Program Studi Agroteknologi, Fakultas Pertanian dan Bisnis, Universitas Mahasaraswati Denpasar

Komang Dean Ananda

Dosen Program Studi Agroteknologi, Fakultas Pertanian dan Bisnis, Universitas Mahasaraswati Denpasar
Keywords:
paper flower cuttings, IBA, soaking time.
Abstract
Paper flowers are an important element in landscaps used to provide beauty and for other functions. This study aims to: 1). Determine the effect of the use of different Indole Butyric Acid Growth Stiments on the growth of paper flower buds. 2). find out the best concentration of soaking time by using growthinducing substances Indole Butyric Acid which can provide growth for paper flowers. This study used a randomized block design with 6 treatments and could be repeated 4 times so that 24 treatments were obtained. Based on the research results of paper flowers using indole butyric acid growth stimulants can be concluded as follows: with a long immersion study ranging from L1 to L6 ie 2cc / 1lt of water gives a significantly different effect on all treatments. Indole Butyric Acid growth stimulant with 16 hours of immersion (L6) gives very good results on all treatments observed, namely: shoot growth speed (HST), number of shoots (fruit), plant height (cm) number of leaves (strands), leaf area (cm), plant fresh weight (g), root fresh weight (g), oven dry weight of the plant (g), root oven dry weight (g).
Downloads
Download data is not yet available.
References
Aak. 1991. Budidaya Cabai Unggul. Penebar Swadaya: Jakarta.
Agoes. 1994. Berbagai Jenis Media Tanam dan Penggunaannya. Penebar Swadaya: Jakarta.
Budiarto, K.,Y. Sulyo, R. Maaswinkel dan S. Wuryaningsih. 2006. Budidaya Krisan Bunga Potong: Prosedur Sistem Produksi. Puslitbanghorti: Jakarta.
Djuarnani, N., Kristian, B. S. Setiawan. 2005. Cara Cepat Membuat Kompos. Agromedia Pustaka.
Fransiskus. 2006. Beberapa cara perbanyakan Vegetatif. Departemen Pertanian Balai Informa si Pertanian: Ungaran.
Hartmann,H.T. and D.E. Kester, 1983. Plant Propagation: Principle and Practise. Prentice Hall inc. Engelwoods Clifs: New Jersey.
Kotis, M., T.A. Yupsanis, T.D. Syros dan A.S. Economou. 2009. Peroxidase, Acid Phosphatase, R-Nase and D-Nase Activity and Isoform Patterns During in Vitro Rooting of Petunia hybrida Micro Shoots. Biologia Plantarum 53: 530- 538.
Novizan. 2004. Petunjuk Pemupukan yang Efektif. Agromedia Pustaka: Jakarta. 114 hlm.
Nugroho. 1992. Perbanyakan Tanaman dan Perawatan Tanaman. PT Gramedia: Bogor.
Rukmana,1995. Bougenville. Kanisius: Jakarta.
Stenvall, N., M. Piisilä, dan P. Pulkkinen, P. 2009. Seasonal fluctuation of root Carbohydrates in hybrid Aspen clones and its relationship to the sprouting efficiency of root cuttings. Canadian Journal of Forest Research. Volume 39 (8) : 1531-1537.
Suryowinoto, S.M. 1997. Flora Eksotika Tanaman Hias Berbunga. Kanisius: Jakarta.
Sutanto, R. 2002. Pertanian Organik. Penerbit Kanisius: Yogyakarta.
Taylor, N. 1961. Encyclopedia of Gardening Horticulture and Landscape Design 4th edition. Houghton Mifflin Company: Boston.
Wattimena, 1992. Zat Pengatur Tumbuh Tanaman. PAU IPB: Bogor.
Winarso, S. 2005. Kesuburan Tanah. Dasar Kesehatan dan Kualitas Tanah. Penerbit Gava Media: Yogyakarta.
Yustina. 1994. Membuat Cangkok, Stek dan Okulasi. Penebar Swadaya: Jakarta.
Zong M. C., Yi Li and Zhen Z. 2008. Plant Growth Regulators Used in Propagation. CRC Press. Boca Raton: Florida.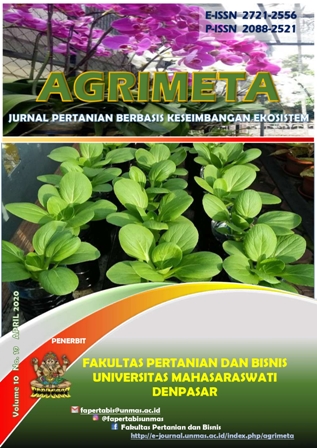 How to Cite
Suarni, F., Sukerta, I. M., & Ananda, K. D. (2020). PENGGUNAAN ZAT PERANGSANG TUMBUH INDOLE BUTYRIC ACID (IBA) PADA STEK KEMBANG KERTAS (Bougainvillea spectabilis). Agrimeta: Jurnal Pertanian Berbasis Keseimbangan Ekosistem, 10(19), 38-41. Retrieved from http://e-journal.unmas.ac.id/index.php/agrimeta/article/view/791