PARTISIPASI PETANI DALAM PENGEMBANGAN ECO-AGROWISATA DI SUBAK SEMBUNG KELURAHAN PEGUYANGAN KECAMATAN DENPASAR UTARA
Florida Harti Daus

Mahasiswa Program Studi Agribisnis, Fakultas Pertanian dan Bisnis, Universitas Mahasaraswati Denpasar

Dian Tariningsih

Dosen Program Studi Agribisnis, Fakultas Pertanian dan Bisnis, Universitas Mahasaraswati Denpasar
Keywords:
eco-agrotourism, development, farmer participation
Abstract
Eco-Agro-tourism in Subak Sembung is one of Subak's cultural landscapes in the middle of Denpasar and which has unique characteristics with an environmentally friendly system and a rice mina system as well as security, beauty so that it can be made one of the identities of the city of Denpasar. the purpose of this research is to find out: 1) The extent of farmers' participation in the development of Eco-Agro Tourism and to find out 2). What factors are related to Participation This study was conducted for 3 months from October to December 2019. This location was chosen deliberately (purposive sampling). The data used are qualitative and quantitative data. The population is 132 farmers. By using Slovin and a sample of 57 people. Participatory data analysis methods with a Likert scale. To find out the factors, a Chi-square analysis was performed. The area of arable land and the factor of the number of family members have a significant relationship to the participation of farmers. The degree of relationship measured by the correlation coefficient of each of the arable land area factors is equal to ϒ = + 0.422 and the factor of the number of family members is equal to ϒ = + 0.402. This means that the direction of the relationship is positive and strong enough.
Downloads
Download data is not yet available.
References
Chafid, F.M. 2015. Pengusahaan Ekowisata. UGM: Yogyakarta.
Dewi, Indah Novita. 2017. Karakteristik Petani dan Kontribusi Hutan Kemasyarakatan (HKm) terhadap Pendapatan Petani di Kulon Progo. Jurnal. Universitas Gadjah Mada: Yogyakarta.
Eldo, R. 2018. Faktor-Faktor yang Mempengaruhi Adopsi Petani terhadap Penerapan Sistem Pertanian Jajar Legowo di Desa Barukan Kecamatan Tengaran Kabupaten Semarang. Fakultas Pertanian dan Bisnis UKSW: Salatiga,
Haryanto. 2014. Model Pengembangan Ekowisata dalam Mendukung Kemandirian Ekonomi Daerah Studi Kasus Provinsi DIY. Jurnal, Yogyakarta: Vol.4. No 225.
Hijriati, Emma. 2014. Pengaruh Ekowisata Berbasis Masyarakat Terhadap Perubahan Kondisi Ekologi, Sosial dan Ekonomi di Kampung Batusuhunan. Skripsi. ITB: Bandung.
Indraningsih, Kurnia Suci. 2011. Pengaruh Penyuluhan Terhadap Keputusan Petani dalam Adopsi Inovasi Teknologi Usahatani Terpadu. Jurnal: Vol 29.
Irawan, Deni. 2017. Tingkat Partisipasi Petani dalam Kelompok Tani Padi Sawah Terhadap Program Sekolah Lapang Pengelolaan Tanaman Terpadu (SLPTT). Jurnal Agroinfo: Cibubur.
Nastitisari, Cynthia Devi. 2017. Partisipasi Masyarakat dalam Program Rehabilitasi Hutan, Lahan, dan Konservasi Sumberdaya Air pada Model DAS Mikro Watugede, Gunungkidul. Skipsi. Universitas Gadjah Mada: Yogyakarta.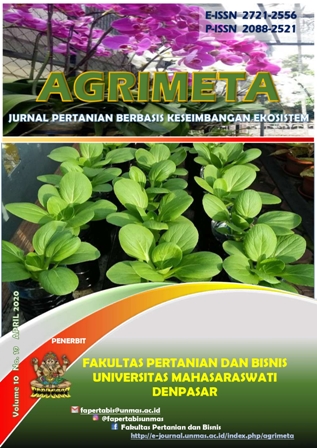 How to Cite
Daus, F. H., & Tariningsih, D. (2020). PARTISIPASI PETANI DALAM PENGEMBANGAN ECO-AGROWISATA DI SUBAK SEMBUNG KELURAHAN PEGUYANGAN KECAMATAN DENPASAR UTARA. Agrimeta: Jurnal Pertanian Berbasis Keseimbangan Ekosistem, 10(19), 13-16. Retrieved from http://e-journal.unmas.ac.id/index.php/agrimeta/article/view/786