PENGARUH PEMBERIAN BAYFOLAN TERHADAP PERTUMBUHAN DAN HASIL TANAMAN BAYAM (Amaranthus tricolor. L) VARIETAS AMARIN DI DESA SANUR DENPASAR
I Made Supadma

Prodi Agroteknologi Fakultas Pertanian Universitas Mahasaraswati Denpasar

I Made Sukerta

Prodi Agroteknologi Fakultas Pertanian Universitas Mahasaraswati Denpasar

I Dewa Nyoman Raka

Prodi Agroteknologi Fakultas Pertanian Universitas Mahasaraswati Denpasar
Keywords:
Spinach, Bayfolan, concentration
Abstract
Research on the effect of bayfolan on the growth and yield of spinach plants (Amaranthus tricolor L) of amarin varieties in Sanur Denpasar village was done in greenhouse, from January 5 to February 15, 2018. The objective of this research was to know the effect of the treatment of bayfolan leaf fertilizer on growth and the result of spinach plants. This study used Randomized Block Design (RAK) with 6 treatments and repeated 4 times, so that 24 treatment was obtained. The data obtained will be analyzed using statistical analysis, if treatment of real effect will be continued with BNT test. Parameters observed were plant height, number of leaves, leaf area, stem circumference, number of branches, fresh weight and dry weight. The experimental results showed unreal results on all observation parameters. Experimental results show the best growth trend and best result on the treatment of bayfolan with concentration 0.15 ml / 1 liter per plant.
Downloads
Download data is not yet available.
References
Anonim, 2008.https://humairaarabiy. wordpress.com/2016/01/03/penelitian-bayam-2/
Rony Wakerkwa., Lingga dan Marsono,2006. Aplikasi Pupuk Cair Terhadap Pertumbuhan dan Produksi Tanaman Bayam Merah. Agri-SosioEkonomi Unsrat, ISSN 1907-4298, Vol. 13. Hal. 286
Rony Wakerkwa dan Wenny Tilaar., Aribawa, 2003. Aplikasi Pupuk Cair Terhadap Pertumbuhan dan Produksi Tanaman Bayam Merah.
Agri-SosioEkonomi Unsrat, ISSN 1907-4298, Vol. 13. Hal. 285
Novizan, 2002.https://aanfarm.wordpress.com/2015/01/21/pupuk-daun-dan-aplikasinya-untuk-tanaman/. Diakses pada tanggal 4 Oktober 2017
PTBayerIndonesia, 2010.https://aanfarm.wordpress.com/2015/01/21/pupuk-daun-dan-aplikasinya-untuk-tanaman/. Diakses pada tanggal 4 Oktober 2017
Kwanchai A. Gomes., Arturo A. Gomes. 1995. Prosedur Statistik Untuk Penelitian Pertanian. Universitas Indonesia
Djoko Eko Hadi Susilo, 2015. Identifikasi Nilai Konstanta Bentuk Daun Untuk Pengukuran Luas Daun Metode Panjang Kali Lebar Pada Tanaman Hortikultura Di Tanah Gambut. Anterior Jurnal, Vol. 14 no 2.Hal. 142
Anonim, 2010.Aplikasi Pupuk Cair Terhadap Pertumbuhan dan Produksi Tanaman Bayam Merah. Agri-SosioEkonomi Unsrat, ISSN 1907-4298, Vol. 13. Hal. 284
Adelaide dan Bakar, 2003.Aplikasi Pupuk Cair Terhadap Pertumbuhan dan Produksi Tanaman Bayam Merah. Agri-SosioEkonomi Unsrat, ISSN 1907-4298, Vol. 13. Hal. 285
Puja Kesuma dan Zucrotus, 2013. Pertumbuhan Tanaman Bayam Cabut (Amaranthus tricolor. L) Dengan Pemberian Kompos Berbahan Dasar Daun krinyu.Bioedukatika, Vol. 1 no 1.Hal. 1-96
Laboratorium Ilmu Tanah, 2017. Fakultas Pertanian Universitas Udayana. Jalan PB. Sudirman, Denpasar-Bali
Hasibuan, B.E. 2006. Ilmu Tanah . FP USU. Medan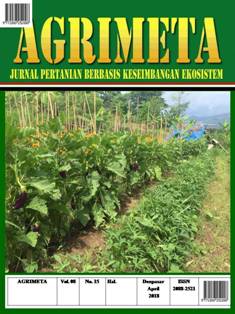 How to Cite
Supadma, I. M., Sukerta, I. M., & Raka, I. D. N. (2018). PENGARUH PEMBERIAN BAYFOLAN TERHADAP PERTUMBUHAN DAN HASIL TANAMAN BAYAM (Amaranthus tricolor. L) VARIETAS AMARIN DI DESA SANUR DENPASAR. Agrimeta: Jurnal Pertanian Berbasis Keseimbangan Ekosistem, 8(15), 30-39. Retrieved from http://e-journal.unmas.ac.id/index.php/agrimeta/article/view/75