PENGARUH KONSENTRASI DAN WAKTU PEMBERIAN PUPUK CAIR PUIRYA TERHADAP PERTUMBUHAN DAN HASIL TANAMAN SAWI (Brassica juncea L)
I Gusti Alit Ady Mulyawan

Prodi Agroteknologi, Fakultas Pertanian dan Bisnis, Universitas Mahasaraswati Denpasar Corresponding

Ni Putu Pandawani

Prodi Agroteknologi, Fakultas Pertanian dan Bisnis, Universitas Mahasaraswati Denpasar Corresponding

Farida Hanum

Prodi Agroteknologi, Fakultas Pertanian dan Bisnis, Universitas Mahasaraswati Denpasar Corresponding
Keywords:
mustard greens, PUIRYA, concentration, time of giving
Abstract
Caisim mustard vegetable (Brassica juncea L.) is a commodity that has commercial value and is popular with the people of Indonesia. Caisim mustard plants have several nutritional contents, namely protein, fat, carbohydrates, Ca, P, Fe, Vitamin A, Vitamin B and Vitamin C (Cahyono, 2003). Organic fertilizer can supply NPK nutrients, also can provide micro nutrients so as to prevent micro element deficiency in marginal soils. The researcher intends to conduct research on mustard plants by administering liquid organic fertilizer PUIRYA combining the concentration and time of application of PUIRYA fertilizer to mustard plants. To determine the effect of several concentrations, time of administration and the combination of PUIRYA liquid organic fertilizer concentration and time on the growth and yield of mustard plants (Brassica juncea L.). This research was conducted in Celuk Village, Sukawati Subdistrict, Gianyar Regency. The study used a factorial design with the basic design of a randomized block design with 3 replications. The treatments applied were 5 different PUIRYA fertilizer concentrations. The observational data were analyzed statistically by the variance analysis method, in accordance with the design used, namely Factorial RAK. In the 9-week-old plant Puriya liquid fertilizer at 14 days after planting gave a plant height of 46.57 cm and a number of leaves of 12.33 strands, and the administration of a Puriya liquid fertilizer concentration of 5% gave a plant height of 51.19 cm and a number of leaves of 13, 11 strands. Puriya's liquid fertilizer concentration of 5% gives the highest fresh weight of plant parts above the soil 78.78 grams which is not significantly different than the administration of liquid fertilizer's concentration of 7%. The 5% Puriya liquid fertilizer concentration gives the highest dry weight of the plant part on the real soil which is 7.90 grams.
Downloads
Download data is not yet available.
References
Adijaya IN, dan Yasa IM. 2007. Pemanfaatan Bio Urine Dalam Produksi Hijauan Pakan Ternak (Rumput Raja). Balai Pengkajian Teknologi Pertanian Bali.
Anonimus, 1980. Laporan Penelitian Pemupukan Sayuran. Kerjasama Lembaga Penelitian Hortikultura dengan PT. Pupuk Sriwijaya. Buringh, P. 1983. Introduction to The Yayasan Pustaka Nusantara.
Hill, A.P. 1952 Ekonomic Botany. Mc. Gro – Hill Company New York Tokonto London https://kabartani.com/proses-pembuatanpupuk-organik-cair.html; Kabartani.com. Diakses pada tanggal 30 April 2019.
Javandira, C. 2018. Deskripsi produk PUIRYA. Denpasar. Fakultas Pertanian Universitas Mahasaraswati Denpasar.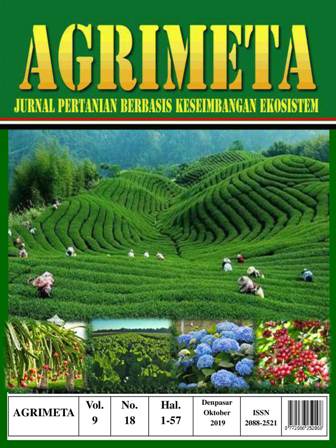 How to Cite
Mulyawan, I. G. A. A., Pandawani, N. P., & Hanum, F. (2019). PENGARUH KONSENTRASI DAN WAKTU PEMBERIAN PUPUK CAIR PUIRYA TERHADAP PERTUMBUHAN DAN HASIL TANAMAN SAWI (Brassica juncea L). AGRIMETA : Jurnal Pertanian Berbasis Keseimbangan Ekosistem, 9(18), 52-57. Retrieved from http://e-journal.unmas.ac.id/index.php/agrimeta/article/view/641